Teacher Spotlight: Joseph Archer is Marching in as Central's New Band Director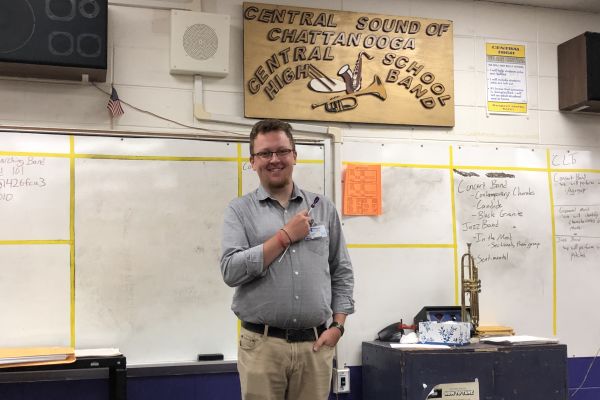 As students have said goodbye to wonderful teachers in the past, they now welcome many new faces into the building. Among these new faces is band director Joseph Archer who has found his first teaching position at Central this year.
Archer, a native of Cleveland, Tennessee, received his bachelor's degree from Lee University in music education, where he found his passion for music. He also has a master's degree in music from the University of Cincinnati.
Archer has enjoyed the beginning of his career at Central and is hopeful for what the future will bring for his students and bands. One of his goals this year is to be able to help his students produce the best sound they can.  One of his favorite things about band is the great variety of music that can be experienced.
"We get to work on music that was originally written for an orchestra, but we can play it in band; this piece has a Latin music feel to it, but we can play it here," Archer explained.
For students not involved in music, he aspires to help them understand how music is connected to society and everyday life.
A specific joy he has when teaching is when students finally understand what they've been practicing, also known as a "light bulb moment." The hope of all teachers is to see their students love what they are learning and fully understand it.
"I know you find that [light bulb moment] everywhere, but just because music is such a part of me and my personality, I can relate to it so much more,"said Archer.
Like many others, Archer's free time includes some of his favorite hobbies. He enjoys collecting DVDs, watching movies, and building with Legos.
"I am hopeful, after losing Mr. Bloodworth, [that] Mr. Archer will continue to lead the band in the right direction," said Erickson Friascruz, a freshman clarinet player of the concert band.
As the school year progresses, students and teachers alike are very excited to see what the band will become. Archer has been excited about being welcomed into such a great position where he can help make the Central Sound of Chattanooga the very best it can be.
About the Contributor
Sarah Katheron Latham, Assistant Editor
My name is Sarah Katheron Latham. This is my second year at Central High School, and my second year on the Central Digest staff. I enjoy singing, reading,...