Principal Phil Iannarone Has Got His Eye on a Clear 2020 School Year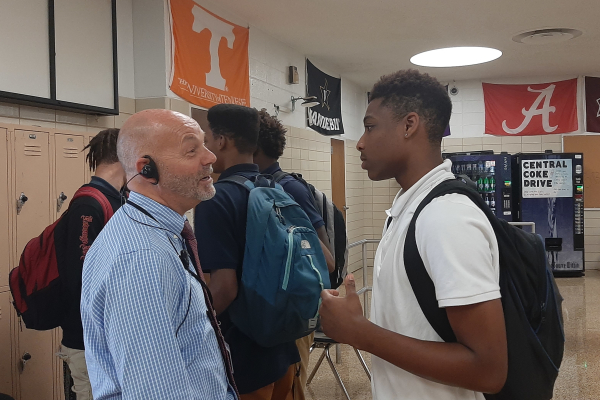 Former Central teacher Phil Iannarone is taking over as Central's new, permanent principal. Though this upcoming year will be his nineteenth year teaching, it has been ten years since Mr. Iannarone's face was a familiar sight at Central High, as a teacher in D-pod. He is proud to say that he was head of the business academy, and also taught computer applications and business management.
"He was very professional and organized," said Shawn Seals.
Mr. Seals teaches U. S. History in D-pod, where Iannarone previously taught. Seals is one of few teachers that can remember Iannarone as a colleague.
While he has taught high school, he has also taught younger students, even serving as principal in many elementary schools, including Snow Hill and Spring Creek Elementary. He knew students not only as a principal, but as a teacher, as well; Iannarone spent years teaching the fourth and seventh grades. His experiences teaching in many different educational environments and age groups will surely pave the way to be a successful principal at Central High.
"My first impression of him was that he was genuine; when I hear that he wants to make the school a school of excellence I believe that, and I hope that becomes true to the fullest extent," said Jazmynn Ball, a senior.
Originally from Long Island, New York, Iannarone came from his home in North Carolina to attend school at Lee University in Cleveland. He worked hard to receive his Bachelor of Science in business education, and eventually earned his school leadership degree at The University of Tennessee at Chattanooga. According to Rick May, Iannarone has always strived to do greater things.
"I knew that he had aspirations to enter into the administration field in some capacity,"recalled May.
Central holds a special place in Iannarone's heart; he would not have resigned from his previous job as principal at Snow Hill Elementary for just any other school. Iannarone's favorite things about Central are the meaningful interactions with students and the ability to see the culmination of the students' efforts.
"Don't accept in defeat; believe in what can be," Iannarone said. "It's worth the effort."
Another quality that attracts Iannarone to Central is the diversity. The welcoming atmosphere culminated by students and guests makes it easy to find a place to belong. Iannarone encourages all students to get involved in extracurriculars. He himself was president of French club back in high school.
The most important thing that Mr. Iannarone asks of students is to catch the vision for the 2020 school year. He wants them to find their niche and be the best versions of themselves that they can achieve.  His positive outlook on 2020 is sure to make for an exciting, fresh school year.
About the Contributor
Morgan Snyder, Columnist
Hi! My name is Morgan Snyder, and I am the Digest's new senior columnist. Even though it is my first year on the Digest, I love it very much. I am very...