Algebra I Teacher Dee Underwood is Ready to Help Students Reach New Heights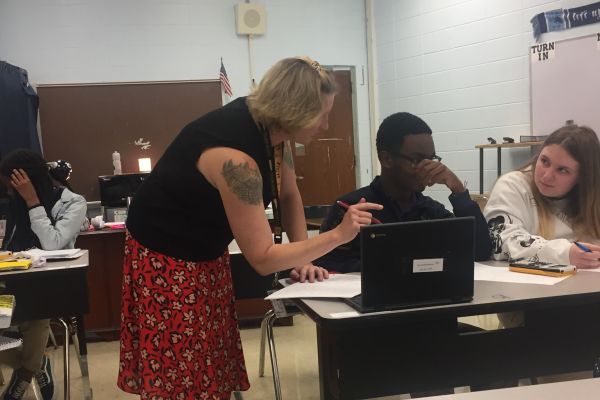 The calling to be a teacher can come at any time in a person's life. This is what happened for one of Central's newest algebra I teachers, Dee Underwood.
Since the middle of 2018, Underwood has been working on her master's degree in teaching at Lee University and co-teaching at Brainerd High School last year.
"This is my first year in my own classroom. I co-taught as a teacher resident at Brainerd High School last year," stated Underwood.
Before she decided to become a teacher and seek her master's degree, she worked in the field of industrial engineering. The first time that she went to school for a degree was for a bachelor's in industrial engineering at Georgia Institute of Technology. While there, and after she graduated, Underwood used the knowledge in her daily work so that she would be prepared when it came time to teach algebra at Central.
"I teach Algebra I, but would be willing to teach higher level high school math as well," said Underwood. "My bachelor's is [in] industrial engineering, so I have taken plenty of calculus and statistics [courses] in my time."
Underwood's experience with all the schooling she went through, along with all the time prior to her teaching in the mathematical field, has definitely prepared her to teach algebra I.
So far, Underwood is excited about being able to work at Central. She she enjoys the teachers that she interacts with and the students that she teaches, which always makes the job better.
"I really enjoy Central High School. I like the round building and the pods, and I like the fact that we still follow the traditional seven period schedule. The students, faculty, and staff have been very comforting. I think this year will be great. There will be some ups and downs, being at a new school with a new schedule, but I look forward to it," revealed Underwood.
Underwood is prepared and ready for her first year at the school, and the other teachers are prepared to help her whenever she needs it. She will try her best to teach her students and help them pass her class, as well as retain the information.