Looking Back: "Youth Wants to Know" is the Commencement Theme For Class of 1956 Graduation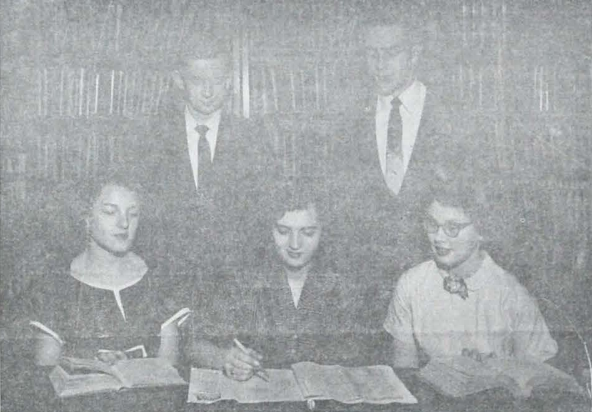 Digest Places Suggestion Box
October 1955
The 1955-1956 school year saw the return of the Central Digest Suggestion Box. Several years prior, the Digest had a similar box, and they decided to re-open submissions due to pleasing results produced by it. The new suggestion box was made by a group of boys in Mr. Seaton's woodwork class. The box was opened for submissions once a week, with all entries carefully considered for publication in Central's newspaper.
Clark Receives Navy Promotion
October 1955
Miss Ruth Clark, a business education teacher, received a promotion in the Naval Reserve. Clark was promoted to the rank Lieutenant Junior Grade from Chief Storekeeper. One weekend a month, Clark drove to Nashville where she joined other Naval reservists. They flew to Memphis where they spent two days for training and work. Clark joined the Women's Auxiliary Volunteer Enlistment Service in 1943 and served for roughly three and a half years.
Key Club Holds Skating Party
December 1955
Central's Key Club held a party at Southland Roller Rink on December 10. All students were invited, with the cost of 50 cents per person. The Key Club also held a magazine drive, where they took in several thousand magazines; the magazines were donated to the T. B. Hospital. The Key Club also worked with the Girls' and Boys' Hi-Y to get "Hello Central" published.
Students Consider Advanced Program
February 1956
A well-performing group of freshmen and sophomores were asked to consider joining a program that would allow them to advance in their studies much faster. The program consisted of English, science, and math classes, and it was continuing to expand into other subjects. Students in the program were required to take four years of English, three years of science, three or four years of math, and two years of a foreign language to participate. Students who succeeded in this accelerated program were sure to succeed in their future.
Commencement Theme is "Youth Wants to Know"
May 1956
The seniors of 1956 graduated at the Memorial Stadium on May 29; the commencement theme was "Youth Wants to Know." Everett O'Neal, salutatorian, presented a speech on "How America Became a Democracy." Sharon Scherer, class representative, spoke on "The Men Who Led America to Become a Nation." Larry Brock, faculty representative, spoke on "America's Achievements in Everyday Living." Carolyn Lansford, co-valedictorian, presented a speech on "America's Spiritual and Moral Achievements." Finally, Co-valedictorian Mooneen Camp spoke on "What America's Heritage Promises for Spiritual Growth."
About the Contributor
Blake Catlett, Editor
Hey! My name is Blake Catlett, I am a senior, and this is my fourth (and final) year serving on the Digest! This year, I will be serving as Editor. I spend...