Local Richard Watts Presents His Annual Halloween Display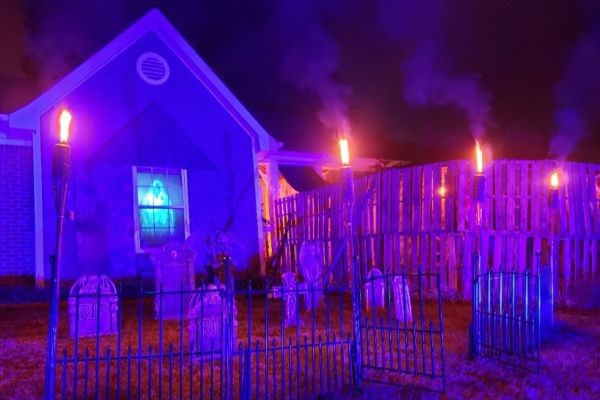 For some, Halloween is not a one-night event. My neighbor, Richard Watts, agreed that the parties and candy are a significant part of the holiday, but for him, it is also an opportunity to display his creativity. Watts's annual Halloween display is a hallmark tradition that his neighbors look forward to every year.
This year, his yard presents a "creepy doll" theme; it includes an eerie bathroom set, an old playground, and teeth-bearing babydolls scattered about.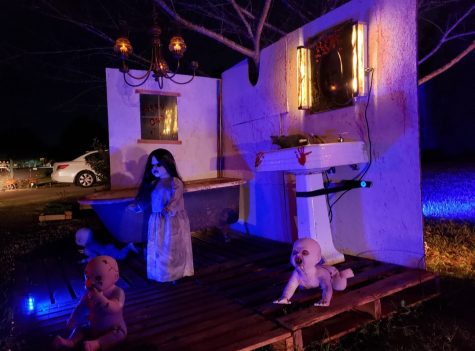 The whole display gives any viewers chills. Around his front walkway is what Mr. Watts calls a "mineshaft of death"– a structure he built himself from rickety pallets. By his mailbox, a super-realistic zombie reaches out to onlookers.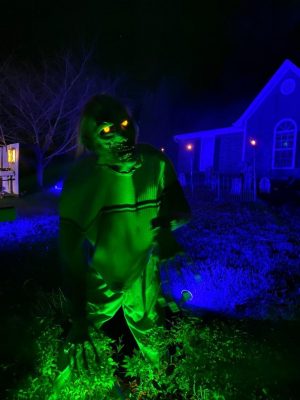 I made the assumption that Mr. Watts had a background in constructing elaborate movie sets or more experience with Halloween thrill events. My initial thoughts were proven wrong when he revealed that he currently works in management at Costco.
His experience with building and designing stems from his childhood; his dad taught him to work with his hands and visualize his ideas. His parents had always encouraged creativity.
"It doesn't have to be weird or scary, you just have to use your inspiration to create," recalled Watts when asked about his parents' influence.
Almost everything you would see in his front yard is entirely built by himself, with the exception of a few props, like the zombie.
"He was bought, but every year he gets changed up– different clothes, different masks. Some of the parts inside are all modified to make him do something different," explained Watts.
Watts moved into my neighborhood five years ago. He always decorated for Halloween at his former home and decided to continue his tradition at his new house, with larger displays every year. The massive displays cause more traffic on Halloween night, so he and his wife have to buy lots of candy to supply the many trick-or-treaters that stop by. The Watts' front yard gains a lot of attention throughout October. He started constructing the display during the last week of September, and he continues improving it until Halloween night.
"To me, I like [for] people to enjoy what I do. They stop and take pictures, and that's why I start [building] so early. I want to build something new every week so they come back to see it," said Watts.
Every year, Watts's display features a different theme. Throughout the years, there have been many, but the central cemetery stays every year. Some props are connected to sensors where people can approach the prop and cause it to move or talk. The animatronics, including jumpscares, are saved until Halloween night to stir an anticipation factor in  the neighbors.
"It's an anticipation [factor] in the way that they [the viewers] know something is going to happen; they just don't know what until Halloween," shared Watts
Halloween displays like Watts' will convince you that you do not have to spend a fortune on a haunted house or costume for a fun thrill. You can find thrills within your own creative spirit, and you can replicate them in your own front lawn for many to enjoy and look forward to.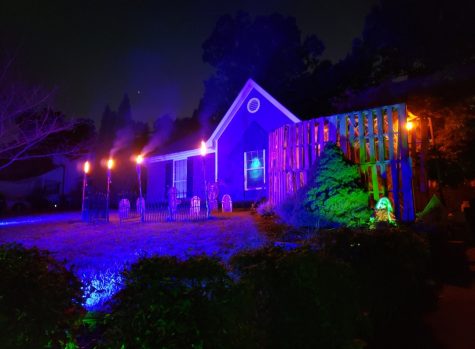 About the Contributor
Morgan Snyder, Columnist
Hi! My name is Morgan Snyder, and I am the Digest's new senior columnist. Even though it is my first year on the Digest, I love it very much. I am very...