Alumni Spotlight: Suzy Hall ('81) Shares Her Motivation to Become a Hamilton County Staff Member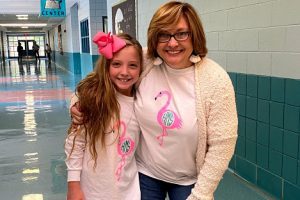 Many Central alumni begin their teaching careers in Hamilton County schools. Among them is alumna Suzy Hall, who is Hunter Middle School's librarian. 
Hall began her journey at Central in 1977. She was a very active member of the student body. She participated in many clubs such as Cheerleading, Futures Teachers of America (FTA), Fellowship of Christian Athletes (FCA), National Beta Club, and Student Council, where she served as the corresponding secretary and later vice president. Hall was class secretary for two years, an Reserve Officers' Training Corps (ROTC) sponsor, president of the Y-Teens Club, and a member of the Homecoming Court, Christmas Queen Court, and Valentine Queen Court.   
Coach Stanley Farmer was Central's principal during her freshman year. Then, J.D. Carnes took over for the rest of her time at Central. Hall admired their school spirit and their commitment to providing an all-around experience for every student. Hall also shared many other members of administration and teachers that aided her in having an enjoyable experience at Central. 
"Administration and teachers such as Stanley Farmer, Marjorie Ogle, Cathy Robbs, Larry Payne, Janice Mowery, Vicki Dunn, and so many others at Central were so encouraging and obviously loved working with students both inside and outside the classroom. These people impacted the lives of others every day and it was that dedication that inspired me to become an educator as well," shared Hall. 
Once Hall graduated from Central, she continued her education at University of Tennessee at Chattanooga (UTC). After receiving her bachelor of science degree and master of education degree, Hall received a Library of Science endorsement through Middle Tennessee State University.
While attending UTC, Hall joined the sorority Alpha Delta Pi. She experienced first hand that sororities are about serving those in need. Her sorority helped to fund a local Ronald McDonald House, worked with Special Olympic athletes, and served the less fortunate near the UTC campus. 
"I got to experience so many worthwhile and life-changing experiences. None of that would have been possible without the leadership skills and confidence that Central High School helped me to develop." 
Hall started her teaching career working with students in sixth and seventh grade. After she met her husband, Hall moved to teach at Red Bank Middle School. After instructing there for several years, Hall left and began teaching eighth grade algebra at Hunter Middle School. Later, she transitioned to be the school's librarian. 
"After 26 years in the classroom, I was ready for a new adventure. I have never wanted to go into administration because it is too far removed from working daily with students. Wanting to stay connected with students and hoping to return to my 'first love,' which was reading, is how I came up with the idea of serving in the library," Hall explained. 
Thanks to the faculty and staff at Central, Hall was inspired to follow in their footsteps and serve as a teacher and librarian in multiple Hamilton County schools. 
"The teachers and other staff members that I had the privilege of working with at Harrison Elementary, Brown Middle, and Central High had a profound impact on my decision to become a teacher. I always dreamed that I would be like them and, in some small way, help other young people fulfill their own dreams. I could never imagine myself in any other job. Some people may not think that this is a great life accomplishment, but I feel that I have given back even if it is just one student at a time," stated Hall. 
Along with giving back to students, Hall uses the experience she received from Central to give back to the community. She organizes food and toy drives for those in need in the Chattanooga area.
"Her generous heart and eagerness to assist others in need allows [Hunter Middle School] to donate hundreds of dollars in food and toys. Christmas is one of her favorite times of the year. A beloved reindeer character magically appears on the school news daily to encourage students to bring items to help the needy," shared Angie Hentz, former advanced studies teacher at Hunter Middle School.