Student Teacher Working with Mr. Mallory's English Classes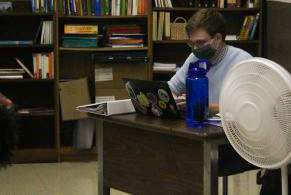 There is a new addition English department. Kevin Mote is student teaching for Ryan Mallory's English 11 class.
"I think Mr. Mote will do a fine job in the classroom. He is confident and knowledgeable in his content and pedagogy, and he has a passion for working with students. He has given me some good ideas in the short time he has been here. I'm really excited to see how he progresses in the coming weeks," shared Mallory about Mote's teaching this semester.
Mote was born and raised in Louisville, Kentucky and went to Louisville Academy for 1st through 12th grade. He is currently studying education at Southern Adventist Academy.
Growing up, Mote had a unique learning style.  This led to some tensions between himself and the conventional education system. He saw teachers who taught in a way that alienated students, dictated students' actions, and minimized students' individuality/individual thought. Later in life, he had teachers who opened up his mind and challenged him to explore, learn, and create. Mote wanted to become a teacher  that does the latter: opens up other students minds. He wants to encourage students to find the answers to their questions.
Mote decided to teach English because he loves ideas and literature, and he wanted to teach a subject that allowed him to discuss anything and everything in-between.
"My favorite part about teaching is the opportunity it gives for the exploration of ideas. I love ideas and I love discourse, so teaching is a no-brainer," Mote added.
Motes's goal as a student teacher is to learn as much as he can by way of practical experience. He is ready to see what teaching really is and to see it in practice. So far, he has enjoyed getting to know the students and the English faculty here at Central.
"I have really lucked out with being able to hangout with the English department here at Central. Everyone has been incredibly welcoming and the students have been really cool," Mote shared about his experience so far with the students and staff.
When Mote isn't teaching. he spends time working, completing homework, and sleeping. He loves to cook, read, watch movies, and discuss various theories/realities with his friends. He also likes to practice circus skills such as juggling and unicycling.