Looking Back: 1962-1963 Student Council Obtains the First Set of American Flags in Classrooms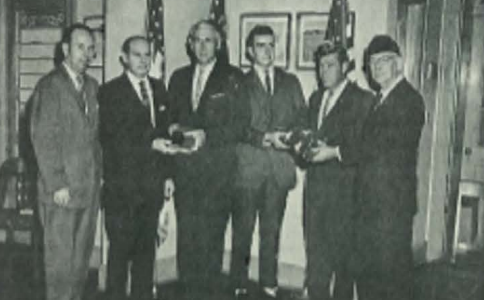 November 1962 
Central's 1962-1963 student council obtained the first set of American flags displayed in each classroom thanks to the American Legion and the Veterans of Foreign Wars. Along with this, the Gideon Society presented each homeroom with a Bible and enough new testaments for each student to receive one. Mr. Charles Funk and Mr. Charles K. Peacock from the American Legion presented the American Flags to Russell Duggar. From the Gideon Society, Mr. A. O. Morton and Mr. W. G. Phillips presented the bibles to Principal H. Millsaps. 
November 1962 
1962-1963 Central students pioneer tradition by aiding in the Guidance Department. Students that are willing to work and know how to type fit the requirements for this job. These students would help the school by typing or running errands. These errands included filing information from individual student records, transferring grades to the permanent records, and alphabetizing schedule cards. When there were no errands to be run, these students used this time as a regular study period. 
December 1962
The Student Council began collecting canned and non-perishable food for the annual food drive. Each homeroom representative was responsible for obtaining a basket and decorating it for the food drive. When the drive ended, the student council members delivered the baskets to families in the Chattanooga area. 
March 1963
Valedictorian and salutatorian are determined by a set of criteria in which the student must have fulfilled. These include having the highest scholastic averages among those that meet all other requirements. For the 1962-1963 school year, Karen Duggan received the honor of valedictorian, yet an unusual situation occurred when the salutatorian was determined. For the first time in several years, two students had the same cumulative average. Diane Henze and Sandra Elmore both received the honor of salutatorian.