Carm's Corner: Sip, Sip, Hooray!
The leaves are changing, the weather is getting colder, and all of our favorite fall drinks are making their way back into our lives. Everyone knows at least one person who goes crazy over pumpkin spice anything when fall comes around. Although I've never been one of these people myself, I enjoy coffee, so I figured I'd be festive this season and see what it's all about. To accomplish this, I've decided to go to the most prominent coffee shops on Hwy 58 and see if their fall drinks hold true to their reputations.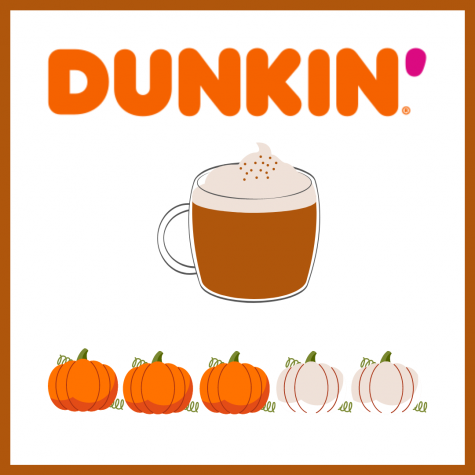 Kicking off our review of fall coffees will be none other than the place America runs on: Dunkin. Just as they are well known for their donuts, they are also known for their wide variety of coffees. They have anything from hot Lattes, Iced Coffee, and Frappuccinos. Their coffee is delightfully tasteful with a good price range. My visit to Dunkin was on a cold, brisk Sunday afternoon before heading to work. It was the prime fall weather to get me excited for a festive fall drink. When ordering, I took a moment to look at the menu to see what festive drink I wanted to choose. It wasn't quite cold enough for a hot drink yet, so I went with a small Pumpkin Spice Iced Latte priced at $2.45. My drink of choice came with two pumpkin swirls and was originally supposed to have whipped cream on it as well. Now I don't know about you guys, but the whipped cream is a favorite of mine. Unfortunately for me, as my luck would have it, Dunkin was out of whipped cream that day, therefore could not provide it for me. I don't want to be biased, but it did sway my opinion a tad on who provided the best fall drink. Objectively, though they should've had whipped cream, my experience with Dunkin wasn't a bad one. With the two pumpkin swirls, I could taste the pumpkin in my drink however it wasn't overpowering, which I was appreciative of. I don't mind the taste of pumpkin, but it's not my first flavor of choice. I would say that if you like pumpkin a lot, then you should get more pumpkin swirls with this drink, but if you like it just enough to tolerate it, then this drink wouldn't be bad for you. Dunkin proves to focus more on the coffee than the pumpkin however that isn't necessarily a bad thing. I'd give Dunkin a 3 pumpkin rating. The coffee itself wasn't bad but at the same time wasn't anything special. The only thing keeping Dunkin at a good pumpkin rating so far is their arguably reasonable price range.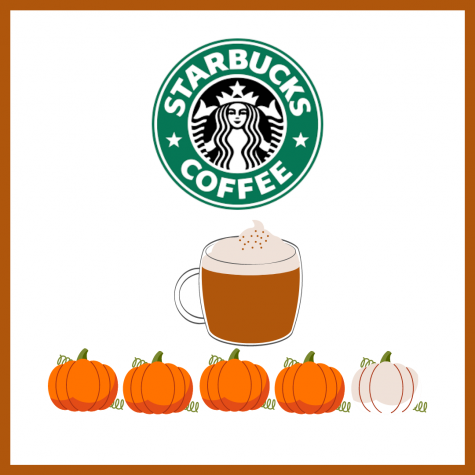 Up next on the chopping block is Starbucks. When arriving at Starbucks on a cold Thursday, I was hesitant on what I was about to order. There seemed to be a tad bit of controversy around Starbucks drinks. Some consider it to be overrated and the others seem to think it's the best coffee around. The time to see if the hype was real was upon me. I ordered a tall (small) Pumpkin Spice Frappuccino at the big price of $5.41. Upon receiving my drink I was slightly disappointed in the presentation of it. With the size being just as small as Dunkin's, if not smaller, with a big price difference plus a single drop of whipped cream, I was kind of bummed out. Although it looked like I was off to a bad start on this coffee, the taste surprisingly made up for it. The taste of pumpkin wasn't overpowering like I was expecting it to be; in fact, it didn't seem like it was just pumpkin. The drink had a sweeter flavor to it. It seemed almost like a sweet pumpkin flavor rather than just straight pumpkin, but I definitely wasn't mad about it. I've never had a fall drink from Starbucks before, so it was to my surprise that I enjoyed it as much as I did. I would say this is a drink for pumpkin lovers and non-pumpkin lovers alike, a taste anyone would enjoy. The only thing disappointing about my Starbucks experience is the tremendous price and lack of presentation; however, the taste makes up for a small bit of this. I'd give Starbucks a 4 Pumpkin rating. I'm giving them the benefit of the doubt that maybe it was an off day on presentations and that the only thing I'll continue not to like about their drinks is their prices.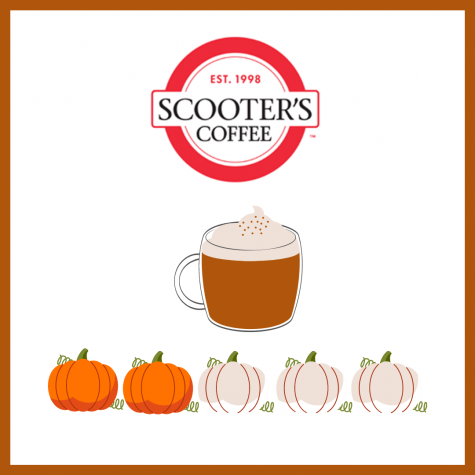 Last but not least is the new resident to the Hwy 58 coffee chain: Scooters. Since taking residence on our Hwy not too long ago, it's seemed to be a hit. I decided to go after school on a warm but ridiculously breezy Tuesday. As a first-timer at this particular coffee establishment, it took me a minute to review the menu. After looking over it for a bit, I decided on a small Iced Pumpkin Caramelicious. The drink included pumpkin and caramel in an iced coffee with whipped cream on top. When receiving the drink, I was excited to try it. Scooters seemed to be the only coffee establishment out of the other two to put a generous amount of whipped cream. On top of the whipped cream was a caramel drizzle with cinnamon on it. This took me by surprise as it was really delicious. The coffee part however was a different story. Their coffee isn't bad at all but this particular drink was supposed to be a pumpkin caramel drink, and it tasted like just coffee. I ordered it with no extra pumpkin or caramel to see what it was like flat out. I'm sure you could ask for more pumpkin if you are an avid fan of pumpkin drinks; however, if you are, then this probably isn't the drink for you unless you ask for more. Scooters' coffee came at a heaping price of $5.63. Although this isn't the amount I would have liked to spend on a small coffee that doesn't even make me feel like it's fall, I did nonetheless. I give Scooters a 2 pumpkin rating as it is the most expensive for a small and tasted the least like fall. I'm sure how much flavor you get in it is subject to change, but it by itself isn't anything special. 
My experience over the past week with trying fall coffees from Dunkin, Starbucks, and Scooters has been pretty interesting. I would say if you're looking for somewhere affordable that has considerably good coffee, I'd go to Dunkin. Between Starbucks and Scooters, I'd go to Starbucks. Not to say Scooters doesn't have good coffee, it's just that Starbucks does it better when it comes to pumpkin spice and everything nice. Scooters has proven to be the most expensive, however Starbucks is close behind. All of these coffee establishments has something for everyone though and will most definitely give you the extra boost you need while putting you in a festive mood.