Looking Back: Central Beats City 21-8 in 1961; First Game Against Rivals Since 1950
45 years ago…
Nov. 1976: JUNIOR-SENIOR CANDY SALE KICK-OFF SET FOR NOVEMBER 4-19
Junior and Senior class officers taste-tested many different kinds of candy to find out which would be the most popular and profitable one to sell for their fundraiser. Earnings from the sale were used by the juniors for prom expenses, while the seniors used their earnings to purchase their class gifts.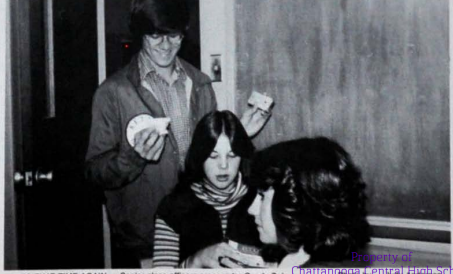 55 years ago…
Nov. 1966: MAJORETTES WIN TITLES, POSITIONS DURING CONTESTS
"Winning seems to be the chief [advocate] of four Central High band majorettes, as they capture titles and achieve positions of prestige in area contests." The recent winners during that time were Head majorette, Nancy Feagans; Drum Majorette, Georgia Bradley; and Junior high majorettes, Jan Clayton and Teresa Railey. Clayton and Railey gave solo performances at halftime during the football games.
60 years ago…
Nov. 1961: POUNDERS TO FACE CITY IN BOWL GAME
After a long wait to have the two schools brought together, Central participated in a power bowl against their arch-rival, City High on Chamberlain Field. This, being the first time two teams faced each other on the gridiron since the series was discontinued in 1950. The final score was 21-8 in favor of the Pounders. The team finished the season with a 9-2 record. 
70 years ago…
Nov. 1951: SIXTEEN NEW MEMBERS ARE ADDED TO I.L.C.
The Inter-School Leadership Council gained 16 new junior and senior members. "Membership in this council [was] based on scholarship, leadership, conduct, and initiative." The seniors added were Blythe Wood, Shirley Wear, Margaret Jarrett, Grace Thomason, Jeanette Mealor, Nancy Burnett, Dottie Waterhouse, Virginia Zott, Patty Cobble, Betty Baskette, Gene Hall, and Earl Williams. The juniors were Ann Houston, Mary Becker, R.C. Cook, and Kay Hoffmeyer.