Central Alumni Eric Stitts Describes the Lasting Impact Central Has on His Life
High School is to be used as a launching pad to whatever students are called to be. This education and community helps students to reach their fullest potential and change the world.  These statements could not be more true for 1989 Central High School graduate Eric Stitts, known as 'Pastor Eric' to most who know him.  He currently serves as Senior Pastor of First Baptist Church Daytona in Daytona, Florida, but his connections to Central High School and the Harrison community still run deep today.
While at Central, Stitts stayed involved with many different extracurricular activities: Tennis, Beta Club, FCA, and Leadership.  He was named Most Courteous as a Senior.
"On Class Day, I was allowed to give a speech to the entire student body, and I gave a devotion… I was able to present the gospel to the entire student body!" Stitts reminisced with excitement.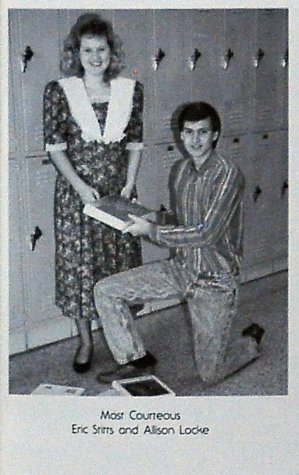 He described that wherever he seemed to travel, people would recognize Central High School, and he was proud to be able to represent a school with such a fine legacy.
His experiences at Central High School equipped him for his life in college at Carson-Newman University, where he earned his Bachelor's degree in Human Services.  He attributes his success in college, both undergraduate and graduate degrees, to the phenomenal preparation he received from his teachers at Central.
"I studied how to help people, and I did a lot of counseling.  I learned how to help people in their greatest time of need," Stitts elaborated.
After Carson-Newman, Stitts attended Southern Seminary in Louisville, Kentucky for his Masters in Divinity.  His first position out of seminary was Student Pastor at First Baptist Alcoa in Alcoa, Tennessee.  Later, he came back home to Harrison to serve as Student Pastor at Bayside Baptist Church (only one mile from CHS).  His time at Central allowed him to connect with students at Bayside in a unique way.  As a Student Pastor, he was involved with different athletic and academic facets of Central High School.
"I love helping the next generation be all God wants them to be… What a blessing to give back to the the school that gave me so much," Stitts declared.
Stitts feels as though Central High School provides a wonderful place for students' skills to develop and launch into their future careers.  He encourages students to allow their high school experience to do the same.
"It taught me to be involved with the community," Stitts stated concerning how working with students at Central affects his work today.
For many years, Stitts also served at Bayside Baptist Church as Senior Pastor.  Throughout his time there, he and his family alway sought to love the church and the community well.
Stitts carries on this legacy at First Baptist Daytona Beach in Daytona Florida where he has the opportunity through the church to serve their community meeting tangible and spiritual needs.   They give food and clothing to needy families in the area, and they spend time avidly sharing the gospel during the pilgrimage of over 500,000 motorcycle enthusiasts, also known as Bike Week, and the Daytona 500 NASCAR races.
"It's cool to be a part of NASCAR and the spiritual side of it… It is a joy to get to do that," Stitts expressed.
Stitts's family includes his wife, Amy and their four children: John Robert, Emily Grace, Mary Beth, and Matthew Eric.  Amy has always served in a big way wherever she has traveled through music ministry, children's ministry, exceptional education ministries, and so much more.  Their children have followed in their footsteps as loving people, dedicated to the service of others.
Pastor Eric has a few words of wisdom for Central's current students: "Remember, the Bible says we grow in wisdom, stature, and with God and man."
He reminds us to spend our time in high school not only growing academically or athletically but spiritually as well.
"Enjoy your time at Central High School and its history and how it is something to develop you so you can be launched out," Stitts exhorts.