Pounder Profile: Girls Basketball Player Haiden Harness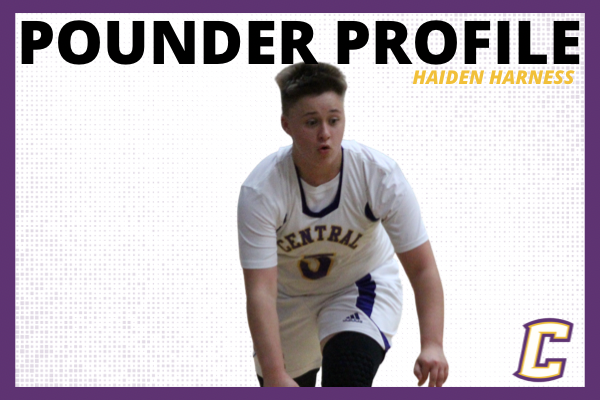 Luke Keown, Sports Editor, Columnist
December 14, 2021
This season, the girl's basketball team has gotten off to a rocky start, but like all sports seasons, it's all about how the team comes together and finishes the season that matters. A big part of the Lady Pounders basketball team is sophomore Haiden Harness.
Despite the team's record, Harness is proud of the team's effort and the way the team has played thus far.
The Digest sat down with Haiden to get a glimpse into her life on and off the court. Central High School athletes dedicate an immense amount of time and energy to their respective sports, so it is only right for the community to get a look inside what makes Central athletics so special.
What's your highest athletic achievement? Last year when I started as a freshman. I worked so hard to get there.
What's your athletic goal? My athletic goal is to make to the next level after high school. 
Favorite professional athlete? Ja Morant (Memphis Grizzlies, NBA)
Favorite Food?  Chicken
Favorite Quote? "Make money and stay out the way"
Favorite class or teacher? Career exploration
Are you superstitious or do you have any pre-game rituals? My pregame ritual is having my AirPod Pros in,  and being off to myself listening to music to lock in.
What are your plans after high school? My plans after high school are to attend college and get a degree for sports physical therapy. 
What's your favorite high school sports memory? My favorite high school memory was last year in February when we played Howard because we got back at them.
What number are you and why? Number 10- I would say its my lucky number.
Readers can view the latest sports updates on the sports center page. This is where schedules, scores, and rosters will be posted. The Digest will continue to bring the latest coverage and updates as the 2021 season progresses.