Looking Back: Santa Claus Made Appearance at 1952's Gala Christmas Party
The upcoming holiday season brings back many high school memories for Central alumni. Let's take a look at some of our older issues from many years ago.
The following stories were making news on the pages of the Central Digest in past years:
69 years ago…
Dec. 1952: SENIORS ANTICIPATE GALA CHRISTMAS PARTY PLANNED FOR TOMORROW NIGHT
Seniors were anxiously waiting for the annual Gala Christmas Party that took place in the boys' gym.
"This fantastic, fairy-like atmosphere of white trees and silver stars will furnish a most fitting background for the Christmas fairy, Santa Claus, and other legendary fairy tale characters who are expected to attend the annual senior festivity. Along with the folk and square dancing with music by the swing band, there will be a play featuring the Christmas fairy. Santa will make his appearance from a real setup of a chimney. Reading some of the letters he has received, Santa will present a number of gifts."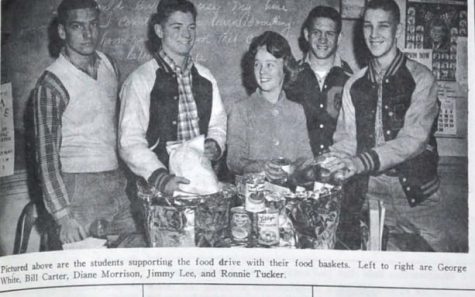 60 years ago…
Dec. 1961:
CHRISTMAS FOOD BASKETS TO BE FILLED BY HOMEROOMS
Christmas baskets for the needy were rapidly being filled by homeroom classes at Central. The student council contributed tremendously by delivering the baskets to families in need throughout the Chattanooga area.
"Each of the homerooms [had] a representative who was responsible for decorating each basket [their class had given]."
55 years ago…
Dec. 1966:  CENTRAL'S HOLIDAY ATTIRE BRIGHTENS SCHOOL SPIRIT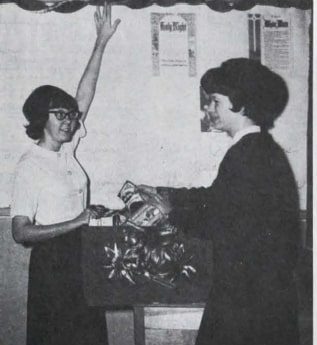 Mrs. Caroline Hughes' business class was one of the many rooms that was decorated for the holiday season.
"As you enter the room, look on the wall to your right. There you'll see a huge bulletin board reminder, beautifully accented by the traditional Christmas colors. Beneath the artwork are several baskets decorated on the outside and filled with student gifts of canned food for the needy of the Chattanooga area."
Mrs. Janie L. Shrophire's home economics class had practically been transformed into a bakery.
"All of Mrs. Shropshire's classes have been cooking there the past few days."
45 years ago…
Dec. 1976: STUDENT COUNCIL NAMES KING AND QUEEN OF ANNUAL CHRISTMAS DANCE DEC. 11
The annual Christmas Dance followed the Central-Bradley County basketball game on Saturday, December 11th in 1976. The highlight of the event was the announcement of the Christmas King and Queen. The queen candidates were Suzanne Bradford, Renee Buckner, Lee Hammer, and Terese Hixon. The king candidates were Butch Baxter, Kevin Dove, Jimmy Manis, and Richard Murray.  There was a student-wide poll for those who attended the dance, deciding who would be crowned king and queen.
"Money earned by the dance will be used to benefit organizations and students at Central."