Welcoming Central High School's New Bible History Teacher, Mr. Sternberg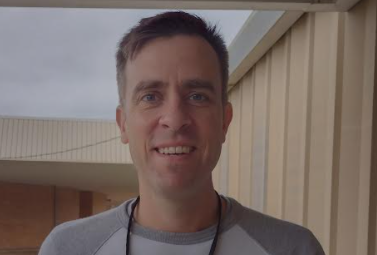 Several excellent teachers and faculty have joined Central High School's staff this year; one of the most recent additions is David Sternberg. Mr. Sternberg is educating students about Bible History and is a wonderful addition to this year's staff. 
Mr. Sternberg is originally from Kentucky. There, he went to college at Asbury University. He received his masters degree at Emmanuel Christian Seminary at Milligan University in Tennessee.
This is Mr. Sternberg's very first time teaching in a school environment. Previously, he worked in youth ministry and has taught the Bible for 18 years. He's excited to teach in a new environment, though.
Sternberg was interested in teaching Bible History because it is more of a direct approach with students. It's easy to see their progress and get feedback. Teachers can work one on one with students and develop personalized ways to teach.
He doesn't want students to see his class as just a grade, Sternberg wants to spark students' curiosity and grow their appreciation for the Bible. He wants students to foster a comfortable environment that makes students feel safe to ask questions and better their understanding.
"I want students to feel cared about and listened to," Sternberg explained. 
Sternberg hasn't been teaching here long and he's already built up a reputation.
Mr. Duncan Kelly, a World History and Contemporary Issues teacher, shared he hadn't been able to speak with him much but, "He seems like a nice guy."
If you want to expand your understanding and admiration of the religion and the Bible, consider Mr. Sternberg's class in the future.