Looking Back: Frank Fuller and Kay Fry were Mr. and Miss Central 1952
Throughout the decades, the month of March has been known for Central High School selecting its annual Mr. and Miss Central candidates. This tradition still carries on today, along with other events taking place during the beginning of Spring. Let's take a look at a handful of events that were held throughout the decades.
---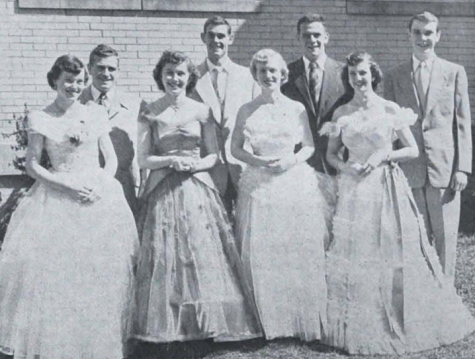 70 years ago…
Mar. 1952:
MR. AND MISS CENTRAL CANDIDATES
"Candidates for Central's 1952 Royalty as pictured from left to right are Kay Fry (Miss Central), Jack Fryar, Arlene Hillis, Ken Hudgins, Doris Castle, Jimmy Williams, Pat Williams, and Frank Fuller (Mr. Central)."
---
60 years ago…
Mar. 1962:
MR. AND MISS CENTRAL TO BE CROWNED TODAY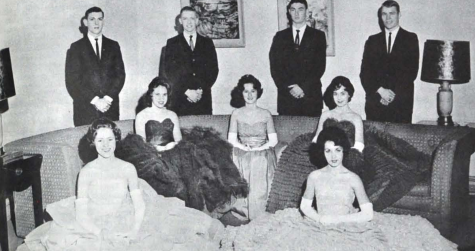 Candidates who competed for the honor of being crowned Mr. and Miss Central are pictured above. The first row (left to right) is Elaine Core and Nancy Jones. The second row is Dottie Meyer, Judy White, and Barbara Talley. Mr. Central candidates are standing from left to right, Jack Woods, Bill Rich, Terry Haupt, and Tommy Aiken. (Not pictured is Bill Thompson.)
---
55 years ago…
Mar. 1967:
ANNUAL EVENT HONORS CLASS
"Candidates for Mr. and Miss Central [were recognized] on Senior Day, March 22. [It was] an annual event to honor the senior class." The candidates were announced by Principal W. Hobart Millsaps. The students running for Mr. or Miss Central were Nancy Feagans, Mary Hawk, Phyllis Sanders, Lynda Sedman, Teri Tinker, David Haddock, Houston Killgore, Russell King, Phil Navel, and Danny Painter.
---
45 years ago…
Mar. 1977: THIRTY-ONE FOUR-YEAR HONOR STUDENTS RECOGNIZED AT RECEPTION
Central held a delightful ceremony acknowledging the seniors who were four-year honor students. This reception was held on February 18th, but the Digest posted about it at the beginning of March.
Licia Lynn Carroll and Lee Margarette Hammer were named co-valedictorians, and Pamela Ann McNutt was given the title of salutatorian.
The four-year honor students are James Fredrick, Baxter Jr., Suzanne Bradford, John Mark Bryson, Linda Lyle Carroll, Licia Lyn Carroll, Donna Lou Dayton, Janette Marie Dickey, Monica Ann Evans, James Berry Gibson, Lee Margarette Hammer, Karen Denise Harris, Ellen Ann Hensley, Lisa Kaye Hisey, Deborah Jeanne Howard, Deanna Lynn Kirk, Rose Marie Liles, Dianne Elaine McCallie, Sally Marie McLure, Pamela Ann McNutt, Susan Dianne McFall, Gina Kay Schillaci, Michael Lane Solis, Susan Dawn Stanley, Elizabeth Lynn Stone, Cynthia Ann Strunk, Stephen Lewis Turner, Susan Carol Vines, Lisa Celeste Wells, Earl Douglass Williams Jr., Dorenda Faye Wilson, and Cynthia Marie Wright.
To be eligible for four-year honors the student must maintain at least a 3.5 average.
Mrs. Maxine Williams, the Champion advisor, announced the scholarship superlatives. The title is given to the students with the highest grade average. The girls are Licia Carroll and Lee Hammer, and the boy is Mike Solis. This reception was sponsored by Mr. J.D. Carnes, the assistant principal.