Welcome to Meryl's Minute!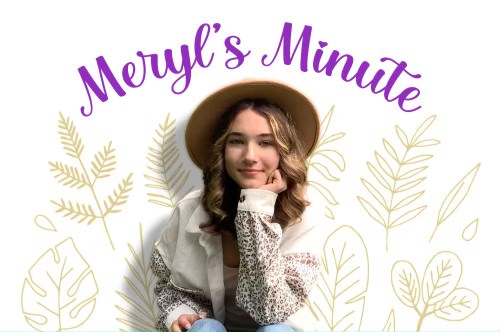 "Be who you are and say what you feel, because those who mind don't matter and those who matter don't mind." -Unknown
Let's be honest, does anyone here think that being in high school is easy?
No one?
Exactly, and you know what? That's completely okay. It's expected! Yes, school work can be difficult, but I'm referring to something much more complex than quadratic regression and writing essays in MLA format.
For those who don't know me yet, my name is Meryl Turner. I'm a senior here at Central High School. That's so crazy to say or type; I still haven't fully processed it yet, but I'm getting ahead of myself. Let's talk about why I'm here (and when I say here, I mean sitting at my dining room table for hours on end) working on this introductory column.
If you were to tell my junior-year self that I'd be the Digest's columnist next school year, I'd be jumping up and down with excitement. It's what I had aspired to do since I joined the staff. Now that I have this opportunity, I'm not taking it for granted. In fact, I will be putting my heart and soul into each article. Without further ado, here's what Meryl's Minute will be mainly about:
Growth. My goal is to help every reader become their happiest self. Surprisingly, what you may be thinking of when I say that, may not be what truly makes you happy. What I've learned is that true happiness doesn't come from friends or grades. What truly makes you happy is self-love. Yes, I know it sounds like I'm getting this off of one of Mrs. Thornhill's posters inside her office, but I swear it's true. Self-love is a continuous process and it's one of the many keys to embarking on your journey to find your best self. In society, especially with teenagers and young adults, vulnerable subjects are avoided for many reasons. But what people don't see is that, even though it may be difficult to be open about our struggles, it makes a difference. Even the smallest remark can make those experiencing rough times feel like they aren't the only ones.
For the underclassmen who haven't thought about this, the class of 2023's freshman year was 2019-2020. It was pretty much normal until COVID-19 hit toward the end of the year, and little did we know how much would change. So I empathize with the freshmen who have to go through their first year of high school dealing with this new Monkey Pox break-out and a crazy schedule on top of that.
I guarantee you, speaking isn't my strong suit but when it comes to writing it's where I'm able to take the time to express myself, I'm able to open up to depths that you wouldn't be able to see with just an everyday conversation with me. As this year's columnist, I don't want to just inform people about recent events. You can find that elsewhere on the Central Digest. I want to help the freshman girl who's afraid to be herself, the boy who's struggling with peer pressure, give a helping hand to the girl that feels left out. My senior year may be short, but I want to make an impact that lasts forever.