Alumni Spotlight: Kim VanHoozier's ('88) Inspiring Journey from Six Flags to Six Teacups
Kim VanHoozier sees the small town of Harrison, Tennessee as her home.  She graduated from Central High School in 1988. She participated in the mixed and girls ensemble within the school choir program for all four years.
"I made friends for life that I still talk to daily. They're my family." VanHoozier states while reminiscing on her time at Central.
After she received her high school diploma, VanHoozier attended the University of  Tennessee at Chattanooga as a vocal performance major. Shortly after she began college, she came to the realization that UTC at that time wasn't for her. Departing from her hometown, she moved to Atlanta, Georgia. There, she sang at Six Flags for five seasons. She then continued her college journey in the year 2000 and earned her nursing degree.
VanHoozier is a proud mother of six children. Five of those six were adopted by her and her husband. Just like their mother, Central is where they have been or will be attending during their high school years. Two of her children are Central alumni, and two others are current students.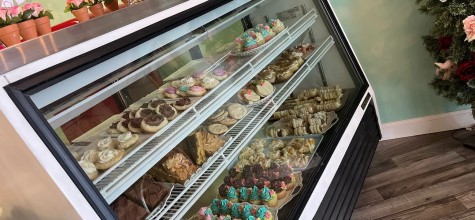 As an owner of a recently opened bakery, VanHoozier has been fortunate to have her life-long passion become a full-time career. Her love for baking stems from childhood memories in the kitchen with her father and both of her grandmothers.
"I have always loved baking. It was something I did with my dad. This is actually my second bakery. I owned one in 2014. We had to close due to a cancer diagnosis. I am a 10-year survivor." VanHoozier informed The Digest.
VanHoozier, motivated to continue her career in baking, opened a new local bakery in Harrison on August 16, 2022. She gave it the name "Six Little Teacups Bakery and Sweets".  The name is inspired by her six children and her interest in teacups.
"I love tea sets and we did lots of tea parties when they were children so it just made sense. They are my Six Little Teacups. Each individual and beautiful." Vanhoozier explained.