Boyd-Buchanan Edges Pounders in Jamboree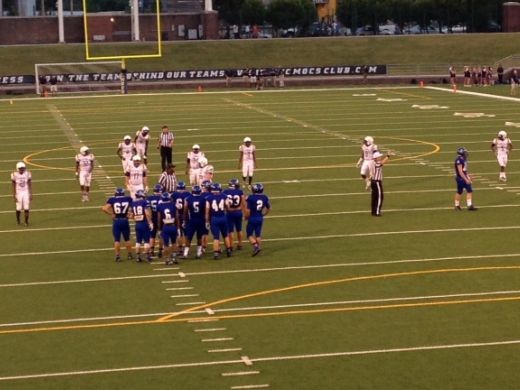 The Central Pounders' football team marched out onto the field at Finley Stadium on Saturday, August 15, ready for the jamboree with high hopes. They fell short with a final score of 7-0 against the Buccaneers from Boyd-Buchanan.
The games played at the jamboree were only 20 minutes long due to several teams present, which did not give any of the teams much time to pull themselves back up when they were down.
"What went wrong was that we didn't function as a team. We, including myself, made a lot of mistakes. There was too much 'I' and not enough 'we'.We are capable of greatness and need to function more as a team, a unit," Ashby Wilson, a senior on the team, explained.
For every play ran on offense, there was at least one person who missed their block, and that affected the entire team. Other than that, most of Central's issues regarding technique and skill were simple, just common mistakes. Overall, the coaches were not upset with how the team played – they were simply frustrated at the fact that the team was not working as hard as they could, and the players knew that.
"We overthought our assignments and didn't execute. Also, silly penalties hurt us; in order to win and achieve greatness, we can't make those little mistakes," Wilson shared.
"It was a tough loss, but we'll just have to put in more work next week," commented Sharone Tatum, another senior on the team.
"You can't expect somebody else to do it. [Nobody] is going to help you get better; you have to help yourself get better," Head Coach Gary Bloodsaw reminded the team after the game.
"Success in our program would depend on our senior leadership and how bad we want to win," remarked Coach Steve Plemons
Regarding the upcoming season, the coaches are excited to see how several of their players perform. They are keeping a close eye on Andrew Wilson, Brian Sledge, Dayquan Witcher, Devin Swafford, Rashaad Craddock, Sharone Tatum, and Taven Spann. It is believed that they will all show remarkable improvement and assist their team in growing this season.
Central is ecstatic to see how the Pounders do in the upcoming season and expect nothing but great things to come. On Friday, August 21, at 7:30 p.m., Central's football team will host Notre Dame for their first game of the season. A large crowd is expected, as well as intensity from both teams.