Volleyball: Central Dominates East Hamilton in 3-0 Sweep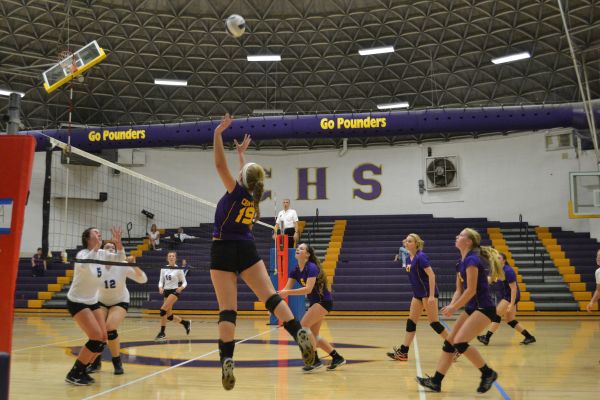 The Lady Pounders volleyball team played an excellent game against the East Hamilton Hurricanes on Monday, August 24, in which Central won all three matches. The first match ended with a score of 27-25, the second with 25-19, and the third with 25-15.
"They're a good team – I just think we had a really good night, and we were really working together," stated Varsity Captain Rebekah Hill.
She believes the teamwork, good passing, and connection between the players were the reasons they were so successful on Monday.
"Volleyball is such a team sport; everyone's got to be on their A-game to be a good team," the senior noted. "Honestly, all those girls are like my best friends."
This is Rebekah's third and final year playing volleyball for Central. She described what it is like to be a captain and what makes a captain different from other players. One must step up, take charge, and be a leader. It is not just about being the best or one of the best players – it is about encouraging other players when the team losing and keeping a positive attitude at all times.
Last year, Central's girls' volleyball team placed third in the district and second in the regular season.
"I think our team is way better this year. If we don't win district, I will honestly be surprised," Hill shared confidently.
"I think we are a lot better, especially attitude-wise," Brooke Parrott, a junior on the team, expressed.
Both girls explained that the team has more players this year, so there are more options when it comes to positions. Girls are stepping up and playing better, which is putting the Lady Pounders on the right track for the 2015 season.
On Tuesday, August 25, the girls played Signal Mountain and Baylor, but unfortunately, both games ended in losses for Central. Rebekah thinks they lost because they were not playing as a team and far too many people were off their game. They had some blocking and serve-receive passing issues but still managed to win one match.
The Central Digest is thrilled to see how the Lady Pounders volleyball team does the rest of the season as well as how they grow together, on and off the court.