Girls' Soccer Claims Season's First Victory in 5-1 Romp Over Howard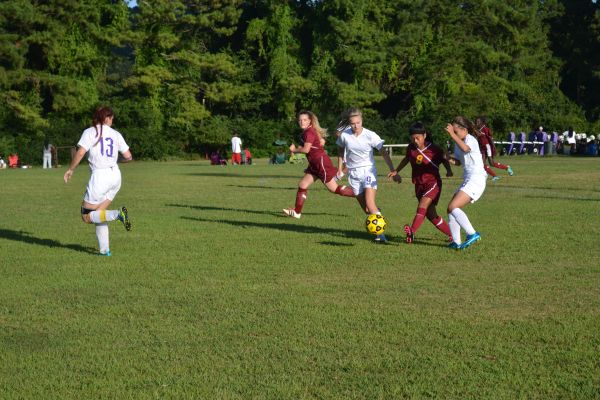 ---
The Lady Pounders soccer team defeated Howard 5-1 on Tuesday, September 8. It was the team's first win of the season, and the players could not have been more ecstatic.
"It's a huge encouragement for the future season," shared Haylee Smith, a sophomore on the team.
The first goal was was made by freshman Celisia Snakenberg with an assist from Smith. After that, Alyssa Rosenzweig, Maggie Pedigo, and Jordan Key all scored in the first half. Madison Pitts, a senior at Central, made the final goal of the game from a penalty kick after halftime.
This game was even more special because it was also Senior Night. Each season, the team celebrates the senior athletes' successes throughout their career in the sport. This year, Central has two senior players, Rebecca Allen and Madison Pitts, and they were each given cupcakes and gift baskets. The senior girls also received a soccer ball that was signed by all of the underclassmen.
"I cannot believe it's my last year here at Central! It's my fourth year playing here, and I'm just so happy but so sad at the same time," stated Allen.
Tuesday's game was the fifth game of the season. The team has suffered, and they needed a win.
"It's a big win – it'll give us a lot of confidence! It's been rough the first four games. We've lost a lot of players – six injured and three with concussions," said Coach Scott Phillips.
Although this game was a success, the team still has room for improvement.
"We need to work on keeping the ball in our possession," said Smith.
"We still need to work on the basics like passing, spacing and shape," stated Phillips.
The Lady Pounders look forward to improving and to winning the rest of the season.