Volleyball Victories: Central Takes Wins Over East Hamilton and Red Bank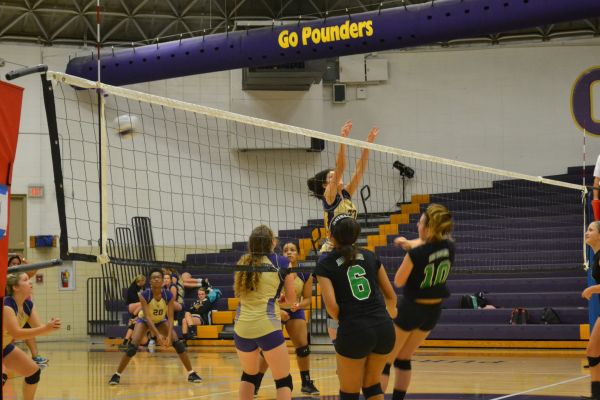 The Lady Pounders volleyball team faced and conquered two big competitors last week. On September 8, the Lady Hurricanes of East Hamilton were taken down by Central 3-1; one day later, a similar fate was met by the Lady Lions of Red Bank, who lost to the Lady Pounders 3-0.
"I knew Red Bank was going to be a tough game, but I [also] knew [that] if we focused on the game, we could pull it out, and we did," said junior varsity player Kerri Sylvester.
"I feel very proud about our wins. We got there with talent and hard work," stated varsity player Rebekah Hill.
The senior believes that with focus and determination, the Lady Pounders will go far this year.
"I think the season will go well if we continue to communicate and work as a team," agreed Sylvester.
Of course, there is always something that can be improved, and Assistant Coach Laurie McGinley has taken note of it.
"We need to improve on our unforced errors," she commented.
The assistant coach also shared some of the stand-out players from last week's games.
"Some shining players were Sam Scott with her defense skills, Lexie Ainslie with serving, Rebekah Hill with offense and defense, and Adrian McClurg with her consistency on offense," stated Coach McGinley.
With hard work and continued communication, this volleyball season is sure to be one to remember.
"If we stay focused on the task at hand while also constantly challenging ourselves to get better, our future can be bright," concluded McGinley.