Soccer: Central Beats Tyner, Falls to East Ridge to Close Season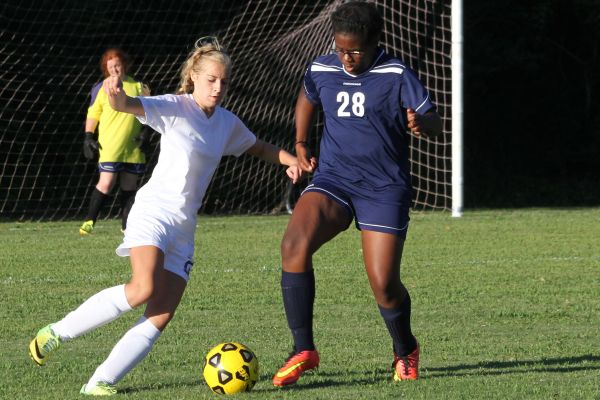 On Saturday, October 10, Central's Lady Pounders slid onto the field to play their first game in the first round of the tournament at 10:30 a.m. With a heavy downpour and mud pits galore, Central's girls' soccer team faced Tyner High School for the second time this season.
In the previous week, Central and Tyner played in a dreadful downpour with the Lady Pounders taking a 2-0 victory.
After winning the coin toss, Tyner began the game with a kick-off; on the touch, the Pounders immediately rushed to the ball and obtained possession.
"I was surprised – a good surprised – but we were playing really well. We came together, and you could tell," commented Katie Dorris.
Dorris is the team's second-leading scorer and played for the Pounders for the first time this year.
"I'm so proud of this team," added Dorris.
Central was up at the end of the first half, but Tyner came back onto the field with ambition and determination.
Leading scorer of the game, and freshman, Maggie Pedigo, had a hat trick during the game, scoring a total of four beautiful goals. Pedigo received crosses and passes from Dorris, Madison Pitts, and Kerrington Severson, as well as a corner kick directly from Alyssa Rosenzweig.
Dorris also scored two goals after receiving passes from Pitts and Haylee Smith. Following Dorris, Jordan Key and Becky Woody both shot and sunk the ball into the back of the net.
Tyner's offense fought back much harder during the second half and put in three goals total. However, Central finished with a final score of 8-3, taking victory over Tyner and guaranteeing themselves another game in the tournament.
On Tuesday, October 12, Central traveled to Camp Jordan at the Weldon F. Osborne Stadium to play against East Ridge in their second round of the tournament. With East Ridge being an undefeated team, the Pounders were hesitant, but prepared.
At 7:00 p.m., East Ridge kicked off the ball; on the touch, an intense game began. Within the first thirteen minutes of the game, Rebecca Allen, Central's goalkeeper, blocked four speeding shots and went on to play one of her best games of the season.
At halftime, the score was only 2-0, East Ridge.
The second half brought an even higher intensity, and the aggression was unbelievable.
"It was a very hard and physical game. We played with all our hearts and gave it everything we had. I'm proud of the game and team, win or lose," shared junior, Hannah Holmberg.
Holmberg also played one of her best games of the season, defensively.
"I couldn't be more proud to have such an amazing team. We played with everything we had until [the] end, and I'm very proud to end my years as a Central Pounder soccer player with a game like that [one]," explained Allen, who is also the team's captain.
"I couldn't think of a better game to end our season; I'm so proud of our team and I know that everyone played that game with not only skill, but with heart too,"  added Alyssa Rosenzweig, the team's other captain and junior on the team.
The loss against East Ridge concluded the girls' season, but not the bond they formed.
"We're most likely going to keep up with each other and keep practicing in the off season, so next year will be incredible," said Kerrington Severson.
Central's team finished with a 4-10 record, but they played incredibly well. The girls all agree that in their last few games, they really came together on and off the field. Coach Scott Phillips is very proud of his team and stated that this past season has been one of his favorites.
"If we keep working and improving in the off season, I can see us doing really well in the county next year – I'm excited," commented freshman, Celisia Snakenberg.
Central High School applauds our Lady Pounders, and we are eager to see how they come back next year.
---