King University Signs Senior Rebekah Hill for Volleyball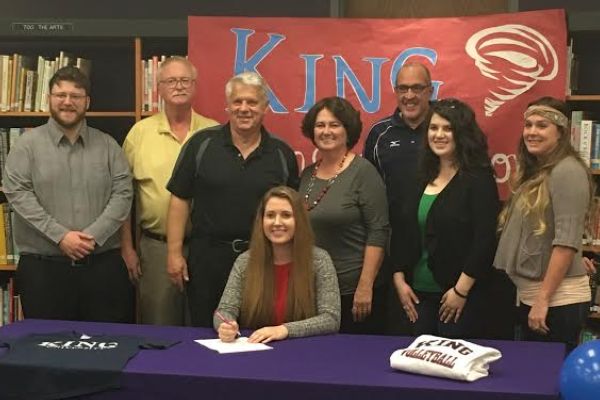 Senior Rebekah Hill was signed to King University for volleyball on Tuesday, November 17. Many friends and teachers attended the signing to support her.
King had been looking at signing Hill since this past summer. She went to visit the campus and watch the volleyball team practice. In addition, Ms. Hill had the opportunity to meet some of the girls and hang out with them. She loved the team and Coach Morris Cephas.
"When I visited, I knew that's where I wanted to go," shared Hill.
Central's volleyball coach Gerald Baughman is excited for Rebekah Hill and her family. He is proud of how far she has come and cannot wait to see all she will do at King.
"It seems like just yesterday, Rebekah was scrambling to different universities wondering which path to take. Then the verbal offer came from King, and she was so excited," stated Baughman.
"When Coach Cephas called and offered me the scholarship, I was ecstatic. It was such a good moment," described Hill.
She said one of the main reasons she was so excited was that the coach was also looking at nine other girls for her position.
Baughman thinks that Hill will thoroughly enjoy playing for King and that she will add a lot to the team.
"Rebekah's work ethic is exemplary of Colossians 3:23 – 'Whatever you do, work at it with all your heart, as unto the Lord and not unto men.' She is committed to anything she decides to do and always gives 100%. Her dedication and steadfastness will play a key part in her success in volleyball, nursing, and anything else she decides to pursue," explained Baughman.
Rebekah Hill is excited to attend King University on a volleyball scholarship. She has support from friends, family, coaches, and the Central Digest.