Senior Night: Central Defeats Notre Dame 15-0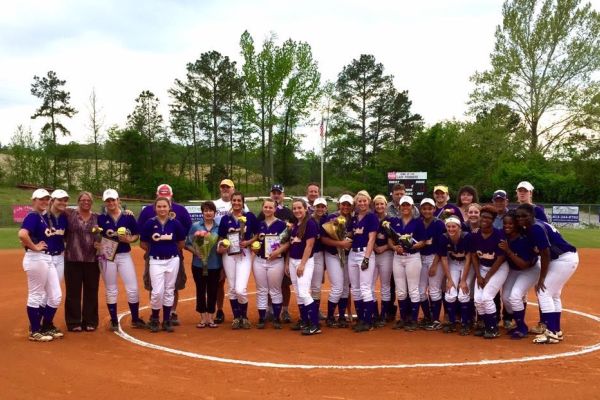 The Lady Pounders softball team won an exhilarating game against Notre Dame on Tuesday, April 19th, with a score of 15-0. After the game, the seniors were honored for their many years of hard work and dedication to playing softball for Central. Over the years of playing, they each have improved in so many different ways.
"They have grown together and as individuals. Each year, they have played a lot as a group in the post-season. They know what to expect and what is expected of them," offered Head Coach LeeAnn Shurette.
All of the young ladies on the team have gotten to be a close group, both on the field and off the field. Over the years of school and softball, the girls have grown to be great friends.
"What I'm going to miss most about softball at Central is the friends I've made. Each girl means so much to me, and when we are all together we have so much fun. I know that years from now I'll look back and smile at all the memories I've made on this team," added Lexie Ainslie, a senior.
Coach Shurette is proud of her girls and their behavior on the field and off the field.
"They're all around good girls. They're a good group of leaders, they don't mind serving other people, they set a good example in the classroom, and they're good athletes," described Shurette.
Not only do the players take the sport seriously, but they are serious and hardworking when it comes to their education.
"I'm going to start my education with the hopes of majoring in pre-medicine. With that in mind, I'm going to spend most of my time focusing on school, and I don't think I will be able to make the grades I want and still play softball in college," explained Ainslie.
The seniors have enjoyed their softball experiences in high school. They will be missed next year, but they have left a great example for the juniors and other underclassmen to follow.