Central Sports Teams Conclude Their Seasons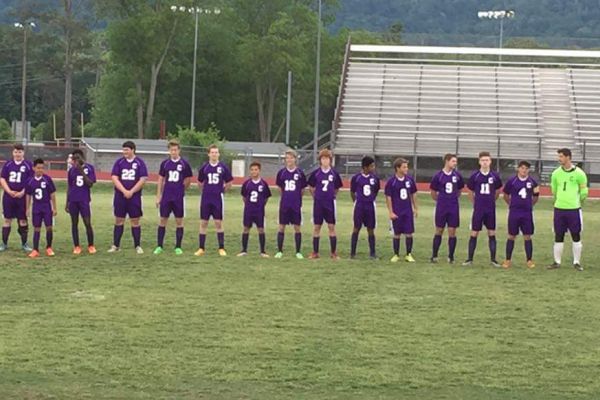 The time of year has arrived where Central's sports' seasons are coming to a close. Tennis, boys' soccer, baseball, softball, and girls' and boys' track are all wrapping up their seasons and playing their final games of the school year.
The tennis team, both the girls' and boys', ended with mostly even records. "The team dynamics are awesome," Jennifer Manley, the tennis coach, commented on this year's hard working teams.
Manley had two very promising young men return to play this year who have helped rebuild the team. Pacey Beck and Matthew Downs, a sophomore and a senior, wrapped up their seasons just last week. "Pacey has two more seasons and I do expect big things from him in the next couple of years! He plays with a lot of power and just needs to fine tune his shots," Manley shared. "He has so much potential!"
The most exciting match of the season for the tennis team was without a doubt, the District Tournament Girls' Finals. Central's Madi Blackburn played her hardest in that match and captured the title as the District Champion. Blackburn lost the first set 2-6, then fought her way back to win the next two, with the same score of 6-4. "She had lost to that opponent from Hixson in the regular season, so it was quite a feat of mental and physical dimensions," Manley explained.
Madi Blackburn played from 3:00 PM to 8:30 PM for the semi-finals and finals with only a 15 minute rest between the matches.
"These players are friends off the court as well. They truly want to practice every day! They support each other and are eager to take instruction, which are important ingredients of a good team. If a player can learn the fundamentals of tennis, compete with sportsmanship, build friendships, and learn to enjoy the sport… I think that is successful!" Jennifer Manley stated. "To me, 'successful' goes far deeper than simply wins and losses…To have a District Champion and advancing to the Region Tournament is awesome and shows that Central's Tennis is a program on the rise! They're an awesome group," Manley concluded.
Central's boys' and girls' track team also had a successful season, as many of the team members plan to travel to Knoxville to compete at the state championship.
Central High School's boys' soccer team wrapped up their season a couple weeks ago with several rough games.
With a solid record, the boys' team wrapped up their season playing Ooltewah and Howard High Schools. They fought Ooltewah hard and long, but lost 6-0. The Ooltewah game took a lot of energy out of the players, both physically and mentally. The team only had a few days to regain their strength as they went into the District Tournament later that week.
Central played against Howard's boys for the first tournament game, and with some questionable referee calls and frustration oozing from both benches, the game only grew more and more heated.
With a final score of 3-2, Howard winning, Central was out of the tournament and their season was over.
"I'm proud of them, they had a few really hard, physical games in a row and they played their hearts out that last game," head coach Tim Browder shared.
For next year's season, the coaches and the team wants to focus on working more as a unit and less as individual players. The boys are satisfied with their hard work in the last few games, but several insist that they should have played with that intensity all season long.
Meanwhile, the girls' softball team had an incredibly successful season. They finished with a record of 21-18.
They lost one game, then went on to win the next three, advancing in the tournament. The girls played hard every game following and used that drive to work their way to becoming District and Regional champions.
On Thursday, May 19, they went on to play in sectionals and unfortunately, lost to Livingston Academy.
"The girls worked really hard this season and they're fun to coach, They make good grades, they work hard, and they fought all the way to the end," the softball coach, Leeanne Shurette, shared.
"For next season, we have the same goals as always, to win the last game and become District champions," Shurette concluded.
Not quite as lucky as the softball team, Central's baseball finished with a record of 15-20.
They did, however, have some extraordinary players that helped them get as far as they did. Although the whole team performed incredibly well, Joseph Clark and Walker Waters shined. Tanner Mowery also had a great batting average and Andrew Bingham played excellent defense. Coty Reels played a little bit of almost every position, helping out the team.
Coach Glen Carter explained that the team played hard this season, but he was disappointed that they were knocked out of the District Tournament. The team fell to East Ridge and Hixson in the tournament and finished 3rd overall.
"It was an okay season, [it] just was not how we wanted to end. Hopefully we'll come back and work harder next year and so we can produce a better result in the end," Carter shared.
Coach Carter shared that the boys have a lot of work to do and they have to dedicate themselves if they want to improve for upcoming seasons.
Central High School and the Digest staff are very proud of all of Central's sports and cannot wait to see how much farther they get in years to come.