Girls' Soccer Team Claims Season's First Victory with 4-1 Win Against Howard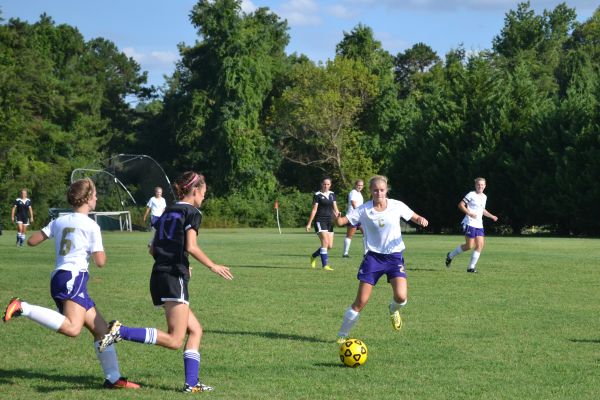 On Tuesday, September 13, the Lady Pounders soccer team took their skills and teamwork to win their first game of the season on the Howard Tigers' own turf. With this being the girls' seventh game this season, a win was definitely much needed.
The goals were scored by Katie Dorris, Lillian McDaniel, Kerrington Severson, and Phoebe Sevanick to win 4-1. Although this season has started with an overall rocky start, the team, backed by an optimistic coach, is hopeful for the future.
"As long as I see us getting better as a team each game, I will stay positive. If we continue to improve, the wins will come," shared Coach Scott Phillips.
Soccer is a game of logistics. It depends on the coordination of both offense and defense to be in strategic positions for collective success. One player's error can lead to a breach in the entire system of defense. Therefore, a team must work together to fill in the gaps of their teammates to balance out the number of players between the ball and the goal.
"We could have scored more if we had passed more as a team," explained Delaynie France, a sophomore on the team.
Regardless of result, each player improves slightly after every single game or practice. Improvements will come in due time.
"If we played similarly to how we did at the game against Ooltewah, we will definitely have a chance at more wins," stated France.
Win or lose, the Central Digest is proud of the hard work and determination the Lady Pounders soccer team puts in to represent Central High School.