Basketball Teams and Cheerleaders Celebrate Senior Night with Two Big Victories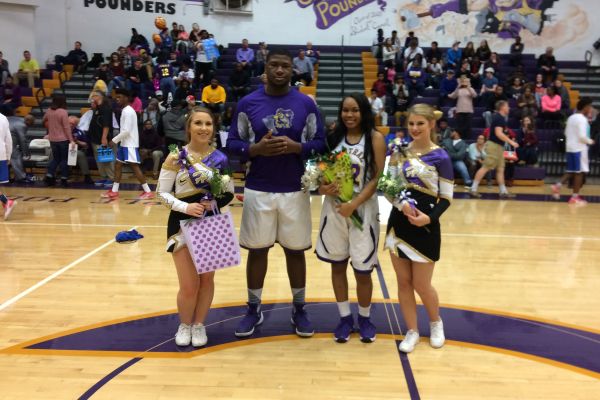 The girls' and boys' basketball team faced Red Bank in a well-anticipated game on February 7th. Red Bank's placement was number one in the district, but Central won 46-44, which secured our placement at third place in the district for the tournament.
"We played really well and beat Red Bank," shared Mr. Rick May, the girls' basketball team.
After the game ended, Senior Night commenced and all the players congratulated one another. Senior players are a vital part of any team; they usually have the most experience in the sport and are expected to show good qualities, like teamwork and responsibility. They guide the rest of the team in hopes to pull out a win.
"Seniors show leadership and guidance, and we only have one senior on our team. The rest of the team are freshman and sophomores. Miracle Miller is a senior and it was her last home game. It was good to win her last game," explained Mr. May.
Ja'nya West, a freshman, scored 23 points. Alivia Smith, a sophomore, scored 16 points. Players from both the girls' and boys' team worked hard to win against Red Bank.
"The girls and boys won. They played their hearts out," commented Miranda Lillard, a senior cheerleader who was recognized at Senior Night.
Rick Rogers, the boys' basketball team coach, explained what seniors on the team meant to him.
"It was a great night. We were celebrating the game. Everyone was full of energy and we blew Red Bank off the court." shared Coach Rogers.
"Our senior, [McClendon Curtis], is the one we go to for anything. He's our rock and he works really hard. He's a monster. He has also been like a dad, and a mentor. The younger players look up to him for an example when they play."
The cheerleading sponsor, Brielle Farrow, said "They were awesome and I'll miss them next year," in regards to her seniors.
"Senior night was really great. We all lined up and the basketball players were congratulated and after that, the cheerleaders were," shared Lillard.
All of Central is congratulating the girls and boys basketball team on their win against Red Bank. The players proved that they are hard-working and the Central Digest will continue to give them all of our support as they continue through the end of the season!