Tennis Season Ends with Central's Madi Blackburn Advancing to Regional Tournament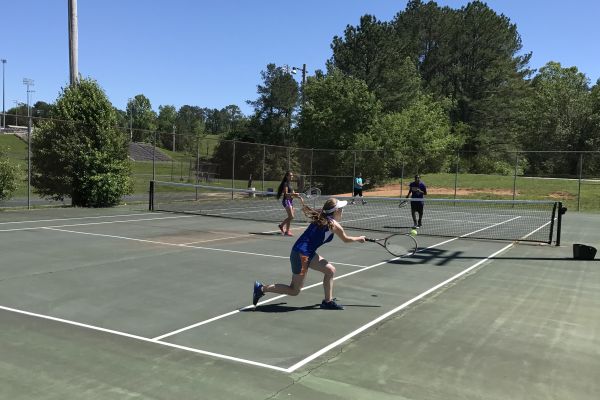 This past Monday and Tuesday marked the end of the 2017 Tennis season for most players. The district victors will continue on to the regional tournaments, which will be taking place on Monday, May 15 and Tuesday, May 16.
"We've had a much larger team this year in comparison to last year's team, I'm really happy about that," commented Jennifer Manly, Central's Tennis Coach.
This year, the Central Tennis team was honored to gain Jordan Hudson, Keyla Wnuck, and Katie Wnuck as new players to represent Central.
"I absolutely love our tennis team, it's a lot of fun to play the sport I love with people that have become my friends," explained Madi Blackburn, a returning junior player and the first seat player. "We all try our hardest every single game, and everybody has a great attitude. I'm so proud of everybody on our team!"
The team has been facing some difficulties with the quantity of team members which have resulted in a lot of forfeited games due to the lack of players in the past few years.
"It was awesome to finally have a full girls team this year, and even more would definitely be welcome!" elucidated Blackburn. "The guys on our team are also very talented, but faced the challenge of an incomplete team and had to forfeit a lot of games. We would love more guys to come and play next year!"
This year, the team was unfortunately unable to secure a home court due to an accident that occurred last year during a tournament; they have been using Brown Middle School's two courts after school.
"Not only is it hard for nine people to practice effectively on two courts, but also having to travel to all of our games, which leads to some transportation problems," phonated Blackburn. "This situation is not what I would prefer, but I am still grateful for the two Brown Middle School Courts that we use. We as a team are determined to make the best of it, and to keep working as hard as we can. Hopefully, someday in the future, Central will have tennis courts that it can all its own, but until then, we will appreciate what we have!"
"Central not having home courts kind of stinks," admitted Kristun McCraw, a returning junior player and second seat player. "At first, we didn't know how to handle it, but we made it work with nine players!"
The girl's team's first chair, Blackburn emerged triumph in the Girl's Districts Tournament and will be headed towards the Regional Tournaments.
"It is such an honor and blessing to have won the district championship for the second time!" exclaimed Blackburn. "I honestly wasn't expecting it, and it just feels great to have a lot of hard work paid off."
Despite all obstacles, the team has made it through yet another exhilarating season.
"Overall, this year's tennis team has been absolutely awesome, and has overcome many challenges, including not having home courts to play on," articulated Blackburn. "I'm so proud of them, and I look forward to playing with them next year, plus anymore that join the team."
"My personal tennis season was better than last year," stated McCraw. "As a team, I think we grew stronger, and we all encouraged each other. We built each other up while having fun!"