Girls' Soccer Team Bids Farewell to Class of 2020 During Senior Night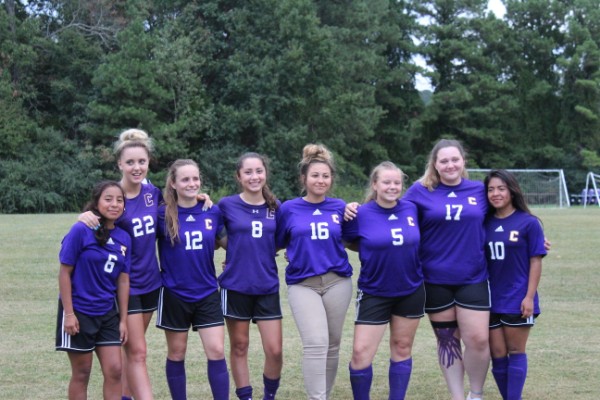 The girls' soccer season is coming closer to an end, but the team is still putting in a tremendous amount of work. The team practices every day after school, with no excuses, in order to prepare the girls for their last few upcoming games. This past week, the Lady Pounders played in two games where they implemented their profound diligence. With the number of games left dwindling, the seniors are recognized as they persevere through the rest of the season.
The team played Sequoyah at the opposing home field on September 19. Even though the team lost 0-5, the team and coach are proud of the effort they put forth. The game was a district game, which determines the team's ranking in the final tournament. Therefore, the girls were determined to play hard and communicate well.
"We did very well in the game. We were really aggressive and have been practicing a lot. We used a lot of communication. Even though a lot of our girls were hurt, I think it was the best we have played all year," Freshman Khloi Sandige stated.
During the game, a couple players stood out to Sandige and the rest of the team. Senior Jasmin Gutierrez was very aggressive throughout the game, which surprised the others. Senior Lexi Poulson, the goalkeeper saved many balls from entering the goal. Overall, all the Lady Pounders performed to the best of their abilities.
September 23, the team played East Hamilton on Central's field. Though the team lost 0-8, the game was very special to the players since it was Senior Night. The team is made up of eight seniors, so honoring them before they left was very important to the team. After the game, the seniors received gifts from the coaches to recognize their loyalty to the team.
"Being honored on Monday felt very special, but very sad. It is our senior year and we try to make it count during every game, especially this one," Senior Gina DeLeon stated.
Even though Senior Night was bittersweet for some of the players, all the girls showcased their passion for soccer and were determined to make the game unforgettable.
"Everyone made a great effort on Senior Night. Especially Cassandra, because she usually plays forward, but was put as a defender. She was really good at it. Jeanette Colunga and Avery Wilkinson did very good too. Usually East Hamilton mercy rules everyone they play, so were amazed, because they did not mercy rule us and we tried so hard," concluded DeLeon.