Central's Boys Basketball Loses Against Boyd Buchanan but Comes Back for a Win against Soddy Daisy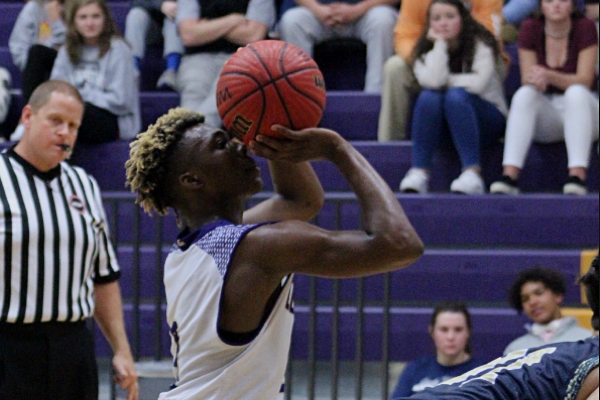 Central's boys basketball team is excited for the 2019-2020 season. The season started rough, but they are just warming up for what the team has in store for the rest of their games
The team lost their Tuesday game against Boyd Buchanan with a score of 33 to 54. However, they pulled through on Friday, against Soddy Daisy, with a winning score of 59-46. Coach Kantonio Davis did not see the outcome of their Tuesday game as a complete loss, for he believed this was a good opportunity to improve.
"I think the results of the game were great for going forward, experience wise. The players that had never played varsity before learned a lot and were ultimately more prepared for the next game," said Davis.
Davis saw Friday's victory as a result of excitement and adrenaline left over from the last game. This was also the boys' first home game, so they were sure to perform well for Central.
"We were a little more focused, we had our second time around, considering we already knew what to expect this time and kids were a lot more enthusiastic since it was their first home game of the season," stated Davis.
Junior Garnett Hubbard explained what the team had to go through during practice and how it helped them during their Tuesday game.
"We basically focus on learning new stuff and go through drills everyday day. Our main focus is breaking any press that is thrown against us, and we work hard on it," said Hubbard.
Hubbard went on to say how he felt they did as a team, and how he felt like they could improve for their Friday game.
"At the end of the day, I feel like we did enough to get the job done. We didn't do our absolute best, but we did good enough and learned from our mistakes and that's all that matters," said Hubbard.
He gave the rundown on how he thought they would prepared for their Friday game. He believes there is a certain mindset the team must have to achieve victory.
"We just need to focus more in practice and work harder on the plays. As a team, we gotta have that mental mind to become stronger each and every day," Hubbard explained.
Senior Malcolm Tutton explained what he believed as the defining moments that set the outcome of the of Friday's game. These factors are what led to their triumphant comeback.
"We worked the ball very well. We controlled the pace of the game and Soddy couldn't keep up with the intensity. These factors are what led to our victory," said Tutton.
Tutton revealed what the team would work on during their upcoming practice. He felt that this game was a great way to redeem the team from last time.
"At practice, we will focus on breaking the opposing teams press and moving the ball without dribbling as much. Going into the game we knew we had to bounce back from the last game,"concluded Tutton.
Tonight at 7:30 p.m. they will be going against East Ridge at home. Tickets are $3 for students and $5 for adults.
Readers can view the latest sports updates on the sports center page. This is where schedules, scores, and rosters will be posted.