Boys Soccer Aims for a Season Full of Victory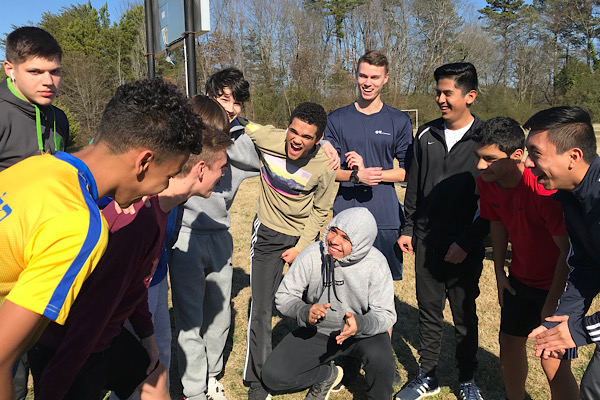 As the boys soccer season begins, players dedicated to the sport have begun to prepare for the season by staying after school to practice as a team. The boys have been conditioning on Tuesdays and Thursdays since the return of winter break to get back in shape for the official season. They plan to practice every Monday through Thursday starting mid-February. Their first of three scrimmage games will take place February 25, at home, against Sale Creek, and their first official game will be March 10 against the same team.
"I honestly think we're trash, but I want a good season," stated Senior Captain Alejandro Salazar. "We're a young team, but we'll get better."
The team is expected to have a strong defense with Seniors Patrick Quinn as defensive center and Blaine Gilreath at his side as left back. Senior Alejandro Salazar will serve as offensive striker, or center-mid, with the help of many underclassmen. Junior Riley Martin has served as goalkeeper since his freshman year, but has to compete for that position this year. Shanard Evans has joined Martin as a new goalkeeper, who has experience from playing in middle school.
"We're going to compete for most games, and, in the final games, [Coach] Browder is going to make the decision on who gets to play," stated Martin. "It's nice that he's helping, though. I ended up getting a concussion last year, and we had to put random people in my place."
The 2018-2019 season was among the most successful the current players have experienced by far. They placed third in their district, but are hoping for a better outcome this year.
"We won about half of our games last year. We finished third, so I'm hoping for at least 10 wins, and, maybe, second place would be nice. Ten wins is very do-able," stated Head Coach Tim Browder.
The team is made up of around 20 players so far, but is hoping for more to join. They have roughly seven new players, including freshmen. The remainder of the team has had experience, but wants to improve as the season goes on. Roles may rotate as new players adjust to their teammates and way of play.
"We have a lot of new people with good potential, so we have a lot of hope for our season. We're trying to bring a trophy home this year," said Senior Captain Patrick Quinn.
"I watched them [the freshmen] in middle school and I'm very excited about the new talent coming in," Browder added.
This will be Head Coach Tim Browder's eighth year coaching the boys team. Prior to being head coach for five years, he served three as assistant. He previously coached the girl's soccer team for two years and continues to do so for Hunter Middle School's team. Mr. Scott Phillips, Central's economics and government teacher, will serve as assistant coach after Coach Jon King's departure. He also coached girl's soccer years before Browder came in, so they both have experience guiding  Central.
Quinn, Salazar, and Gilreath have been on the team throughout their four years of high school; they are hoping for a good season to end their soccer career.
"I would like to win some tournament games. It would be nice to have more tournament games though,"concluded Quinn.