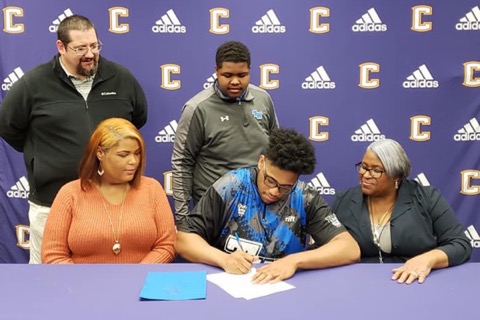 Cedric Williams Signs to Tennessee Wesleyan and is Awarded Several Scholarships for Excellence in Bowling
At Central, many of the students have an array of goals and aspirations. Some of these objectives often come with valuable benefits that students can use to their advantage. Senior Cedric Williams has used his love for bowling as a way of financial support. He has been offered several scholarships for his bowling accomplishments, from Tennessee Wesleyan University, Emmanuel College, Clarke University, Belmont Abbey University, Morehead State, Life University, and Quincy University. Williams explained what motivated him to bowl; he revealed that his mother was the one who sparked his interest in the sport.
"My mother was the one who motivated me to start bowling. She was on the Professional Women's Bowling Association tour when she was pregnant with me. I feel like this was a huge inspiration for my passion to bowl," Williams said.
He feels immense gratitude after receiving several bowling scholarships. Williams credits his drive and dedication that ultimately got him the scholarships. He is even on the court for Mr. Central.
"When I was awarded this scholarship I felt very honored. I worked very hard to achieve the status I currently have in the bowling community. It was a true blessing to receive my sixth offer from Tennessee Wesleyan," Williams said.
Williams gave some advice to any aspiring bowlers who are hesitant to get involved. He provided some wise words that could apply to anyone doing a tough task.
"Keep grinding; never give up on something just because somebody doubts you. The road may be rough, but the journey will be worth it once you reach your destination. Hard work will always pay off in the end," revealed Williams.
He is willing to prepare for college bowling by setting goals, and he expects to succeed in a new environment.
"My main goal is to be willing to change and adapt to my environment and have a mindset to win. I must be prepared to learn advanced techniques and continue doing my best. My most important goal is to continue to have fun while playing the game," Williams said.
Williams officially signed with Tennessee Wesleyan University located in Athens, Tennessee. His ambitions caught the coaches' attention, which eventually got him his scholarships.
"I signed with Tennessee Wesleyan for a 4-year bowling scholarship. Tennessee Wesleyan coaches John Ferguson and Aaron White saw true talent in me through big tournaments in the Tennessee area. They told me through big tournaments 'you're coming to bowl with Tennessee Wesleyan,'" Williams stated.
He expressed how he felt when he was awarded this opportunity. It was a big deal for him and made his journey feel worth it.
"I knew this opportunity to bowl was there. I'm now apart of the team and ready to win because I've never been on a winning team before," Williams concluded.