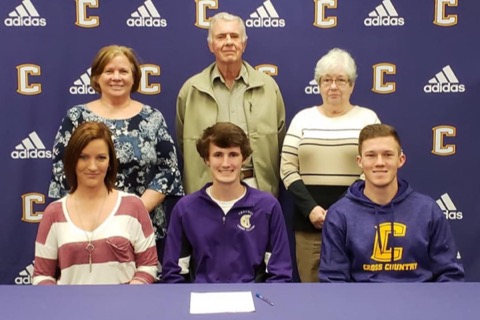 Kaigen Mulkey Signs to UTC on a Cross Country Scholarship
Central High boasts numerous senior athletes who have either signed or committed to different colleges and universities on athletic scholarships. Recently, one of Central's seniors, Kaigen Mulkey, signed with the University of Tennessee at Chattanooga (UTC). He received a scholarship for his achievements in cross country. 
Founded in 1886, the University of Tennessee at Chattanooga resides in the downtown area among many opportunities for jobs and internships. The campus extends for 425 acres, with several academic buildings and a gym equipped with an aquatic center.
The public university maintains an acceptance rate of about 83% and received about 11,651 students in the fall of 2019. Students must have at least a 2.85 GPA and an 18 on the ACT or a 2.5 GPA with a composite score of 21 on the ACT.
Mulkey explained that after UTC reached out to him, he emailed the UTC coach to set up a tour and was able to speak with him in person. 
"I was shocked when I got the offer," Mulkey revealed.
He also revealed that Stacy Alexander, the college adviser, helped him with the application process. She was able to answer any of the questions that arose as he was completing the application process. Mrs. Alexander expressed her pride in Mulkey's accomplishment. 
"I was very excited about his signing with UTC for cross country," Mrs. Alexander explained, "I am glad that I had a small part in helping him decide his future."
Mulkey's coach, Joseph Parrott, is a UTC alumnus and was also excited to hear that Mulkey was rewarded with this scholarship.
"My reaction was one of extreme happiness, as Kaigen has been working so hard to earn a scholarship for as long as I've known him," commented Mr. Parrott. "I am very proud of Kaigen."
Mr. Parrott described Mulkey as a hard working athlete. According to the coach, one of Mulkey's biggest achievements in cross country this year was when he made a new personal record of 16 minutes and 56 seconds on a 5 kilometer race. He also revealed that the athlete was hoping to be able to go to a school close to home while still being able to continue doing what he loves.
UTC is ranked as the 117th school for part-time Master's of Business Administration programs. Mulkey plans to continue his education by majoring in business management with gratitude towards this scholarship.