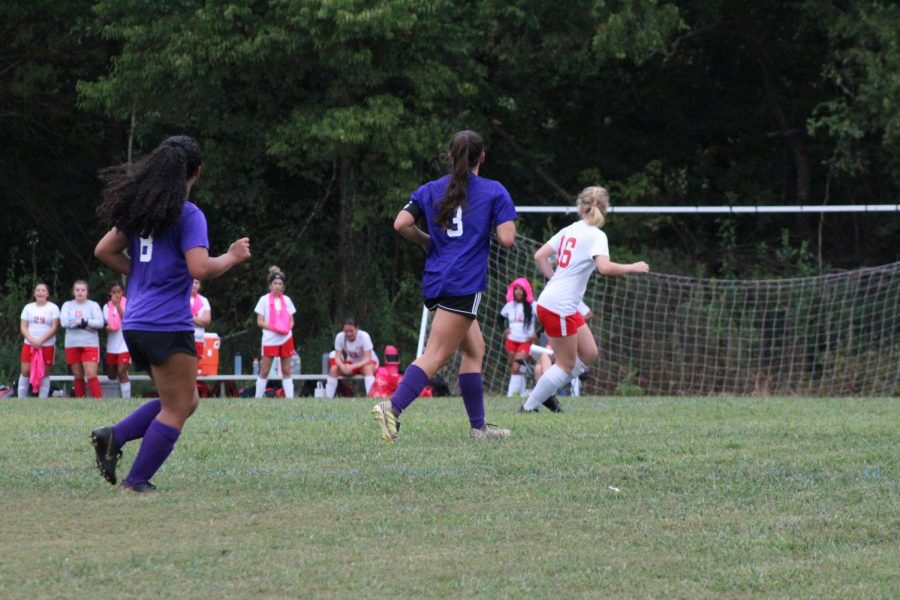 The Girls' Soccer Team Celebrates Their First Win of the Season
As Fall sports progress, the girls' soccer team is preparing to start their 2020-2021 season. The team currently has 10 players, but needs 11 to have an official team. Anyone that is interested in joining the team should contact Coach John Brittingham. The team currently has no seniors, and a pretty even mix of juniors, sophomores, and freshmen. Some schools are willing to play Central nine on nine. However, other schools have cancelled or rescheduled their games.
According to the Brittingham, the girls on the team "have a lot of fight…When the whistle blows they get really competitive and play hard."
On Thursday, September 10, Central played their first game of the season against East Ridge. The teams played nine on nine. However, East Ridge had 10-15 subs, while Central had none. At halftime, the girls were down 2-0. Shortly after the second half started, Junior Janetth Colunga scored a goal, bringing the score to 2-1. Within the last 15 minutes of the game, East Ridge scored four goals. The final score was 6-1.
Despite the loss, Brittingham stated, "The girls played very well…they were just exhausted [towards the end of the game]."
On Tuesday, September 15, the girls played against Sequoyah. Yet again, they played nine on nine, with Sequoyah having several subs. The final score was 3-2. Both of Central's goals were scored by Janetth Colunga.
According to Brittingham, "the match was hard fought and pretty even throughout, but we gave up an early goal that came back to bite us."
During this game, Junior Ashlyn Wood made ten saves as goalie. Wood shared that she is "hopeful the season will go well."
On Thursday, September 17, Central played an away game at Howard. Central played with 10, while Howard played with 11, with roughly seven subs. Central dominated possession for most of the game, but Howard put a lot of players back to defend, making it hard to score a goal. Towards the end of the game, Colunga scored a goal. The game ended with a score of 1-0, marking Central's first win of the season.
Come out and support the Lady Pounders in their next games. This week, they are playing at Sequatchie County on Tuesday, September 22, and at Red Bank on Thursday, September 24.
Readers can view the latest sports updates on the sports center page. This is where schedules, scores, and rosters will be posted.