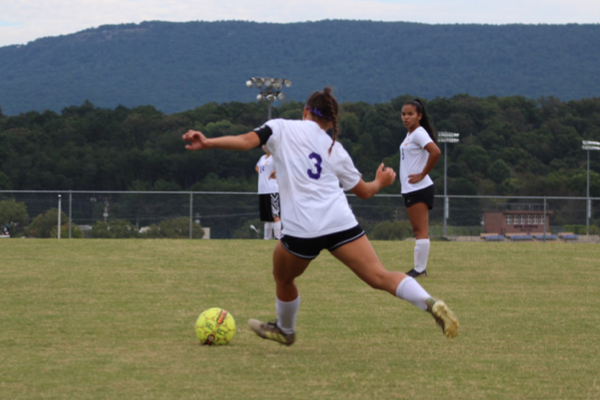 The Girls' Soccer Team Takes a Tough Loss Against Sequatchie
On Tuesday, September 22, Central's girls' soccer team traveled an hour away to duel with Sequatchie High School. Central took a devastating loss against Sequatchie, with a final score of 1-0. Although the girls played very well, the Pounders did not come out on top. With the soccer season still in session us, the Lady Pounders are continuing to stay strong and play their best.
During the first half of the game, Sequatchie scored the one and only goal. The girls continued to play their best and kept Sequatchie from scoring another goal. During halftime, Central was able to breathe and come back together for the last half. Although the girls never scored a goal, they played well defensively, not allowing the margin between them and Sequatchie grow.
"It was a very competitive game. Sequatchie probably has more soccer skill than we do at the moment but our girls competed hard and almost overcame the deficit," shared Coach John Brittingham.
It was a tough game for the girls' soccer team, but they continued to push through the game. Unlike Sequatchie, Central did not have any subs during the game. By the end, the girls were tired from playing their best and giving the game their all.
"I felt good at the game. I was proud of myself and the girls and how we pushed through the game the whole 80 minutes, tired and hurting, with no subs. We still played and didn't give up even though we did not win," stated Junior Janetth Colunga.
Even with the loss, the girls' soccer team is continuing to grow. They are preparing for their next game on Tuesday, September 29 against Bradley Central High School. Excited to see how their next game goes and with high hopes of winning, the Lady Pounders are training hard.
"I believe in always working on the fundamentals (dribbling, passing, and shooting), but we have practiced more situational stuff in the last week or so (corner kicks, goal kicks, playing out from the back, etc,)" said Brittingham.
The girls' soccer team is ready to play their next game and have hopes of obtaining another win for their team. Be sure to come out to support the Lady Pounders in their home match-up with Bradley Central.