2020-21 Boys' Basketball Season Begins Despite Setbacks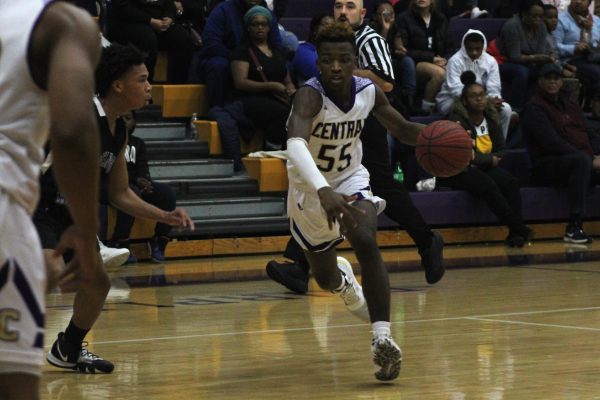 As the 2020 school year continues to unfold, many of Central's sports teams are trying to stay afloat while battling the social distancing guidelines brought about by the COVID-19 pandemic. The Central boys' basketball team is no exception to the fighters as they begin to kick off their 2020 season.
Team tryouts were held on November 2 and 3, and the varsity team is already eager to compete in their first game coming up on Wednesday, November 18 against McCallie. This quick start is due to the build up of anticipation from many team members as well as returning head coach, Kantonio Davis.
"I feel like we have a lot of momentum coming off last season," explained Coach Davis. "A lot of guys were excited about the off-season and [COVID-19] disrupted that. Athletes were going to play travel games in the spring as a unit. [COVID-19] also cancelled preseason games. The first game we play will be the first time in action since February."
This build-up of momentum has caused the team to become charged with enthusiasm for this season. The team is confident that this enthusiasm will elevate their competitive ability and lead them to play many great games this year.
This year, there are many senior players on the roster to help guide the team and lead them to victory. These seniors include Garnett Hubbard, Donovin Taylor, Brian Allen Jr, Jaylin Teague, Jailon Jackson, Kenneth Steward, and Matthew Braden. Fresh faces also come along with returning players. A total of 12 freshmen will be joining the team this year, eager to learn alongside the returning players as well as represent the Central spirit.
"We are trying to be optimistic with all the distractions going on. It's going to be a season where students are going to have to be ready for anything. With games being called and cancelled, everyone is on their toes. The team itself is looking ready to go and represent Central," shared Coach Davis.
Although there have been many setbacks and concerns for this basketball season, Coach Davis has expressed his pride in this year's team selection. He is confident that this season will be just as good, if not better, than any other season despite many setbacks.
"We are looking forward to having a winning season and playing harder than we did last year," explained Senior Jailon Jackson. "I love how hard we push each other to get better each day we practice and prepare for a game. This helps us build chemistry and gain more skills."
This friendship and bond between the team is always vital for a successful season. Being able to communicate and work together as a team are key skills in any team, and Coach Davis has no doubt that his team will train hard and work together to help create a successful season.
"I hope for this team to grow as the season goes along and have an opportunity to achieve the goals that we set as a team," concluded Davis.
Readers can view the latest sports updates on the sports center page. This is where schedules, scores, and rosters will be posted. The Digest will continue to bring the latest coverage and updates as the 2020 season progresses.