Coaches Shurette and Ware Step Up as New Softball Coaches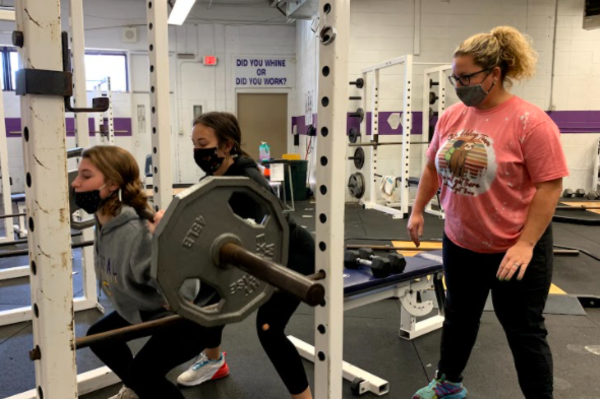 Last season, Coach Randy Crawson led Central's softball team, but this year, he stepped from his position. In light of this, Coaches LeeAnne Shurette and Holly Ware have stepped up to be this year's softball coaches.
Coach Ware teaches computer applications and coaches volleyball. She played softball for 13 years and was actually the first sport she ever played. She started playing the sport when she was five years old and played all the way through high school.
Ware stopped playing after she received a full scholarship to play basketball. Coach Ware attended Cleveland State Community College for two years and then attended the University of Tennessee at Chattanooga; she played basketball for both. Ware chose a basketball scholarship over softball because of her greater interest in the sport, but her love for softball never dwindled.
"Honestly, I felt like it was another opportunity to be a good role model for young ladies and help build them into great athletes. I am super excited to coach with one of my best friends, Coach Shurette. I do believe we both are going to work well together and have a great season," Coach Ware stated.
Coach Ware was asked what she is most excited about for coaching softball this year.
She replied with this: "I am excited to get back into this sport; I am mostly excited about coaching the girls. I love seeing athletes grow in the sport."
Coach Shurette teaches wellness and weight training. She played softball at Tennessee Tech for four years. During her first two years of coaching softball, she was an assistant coach to Rick May. Then, she was head coach for eight years. During her time as coach, she led the girls to seven District Six AA Regular Season Championships, six District Six AA Tournament Championships, six Region Three AA Championships, six AA Sectional appearances, and four AA State appearances.
Coach Shurette ended her last run of coaching because she wanted to spend more time with her family and watch her kids play sports. She is very excited to start coaching again
"I have always viewed coaching as a ministry, and I think of the girls I coach as my daughters. I like to use the sport to teach life lessons," Coach Shurette concluded.