Central Boys' Basketball Loses Against Hixson, Boyd Buchanan, and McCallie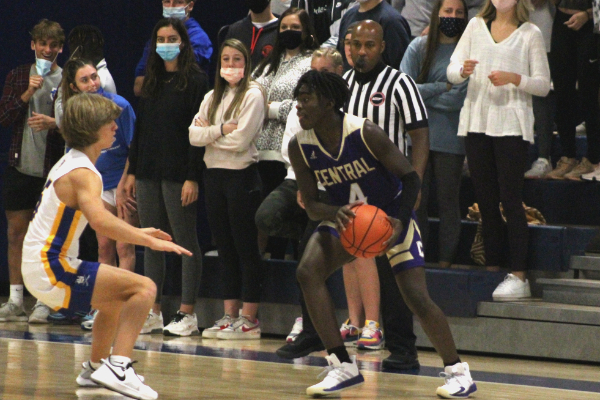 Going into this year, the Central boys' basketball team was very excited to dive into this season, even with the restrictions of COVID-19. The 2020-21 team has eight seniors, which is very influential and important for the Pounders. The senior heavy team the boys were eager to take their first steps step onto the court.
The first game of the season was on Tuesday, November 17. The Pounders were facing McCallie away from home. Central started the game strong, scoring 13 points and creating a three point lead in the first quarter. This momentum was nowhere to be found in the second quarter as the Pounders allowed 17 points and only scored eight. The half ended with McCallie leading with 27 points and Central with 21 points. The Pounders continued to fight in the second half, but their efforts were not enough as McCallie extended their lead by five points in the third quarter. In the fourth quarter, Central outscored McCallie, but it was not by enough to regain the overall lead. The final score was 42-52.
The Pounders next game was an away game against Boyd Buchanan on Friday, November 20. Central was not able to carry the same intensity into this game like they did against McCallie. There was a different feeling in the air around the Pounders. However, the team still put up a great effort. Ultimately, Central ended up losing the game. The final score was 53-67.
"We allow one quarter tear us apart from winning. What stood out to me was Coach [Davis] kept us motivated throughout the game and give us that hope we need," Senior Kenneth Steward shared.
The Pounders then moved on to their next game against Hixson. This game was played on Tuesday, December 1, and was also an away game. Central played aggressively, causing several turnovers, but they struggled to capitalize off these turnovers. Despite the impressive defensive outing, Central were unable to rise up against Hixson. The Pounders lost 59-67.
I really think that we can be a great team this season. We just have to set aside playing as individuals and play as one team while listening to what coach says," stated Senior Brian Allen Jr.
Due to potential exposure to COVID-19, Central's team is currently quarantined. Central will be able to resume the season as normal on December 12. The rescheduling for the games against Red Bank, Lookout Valley, Ooltewah, and Howard is currently in progress. The Central Digest will update readers on the updated timeframe for these games when the information is released.
Readers can view the latest sports updates on the sports center page. This is where schedules, scores, and rosters will be posted. The Digest will continue to bring the latest coverage and updates as the 2020 season progresses.