Central Welcomes Senior Roby Thomas to Wrestling Team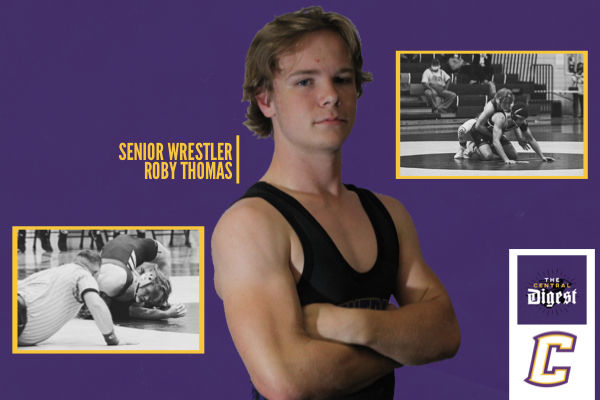 Over the past years, Central's wrestling team has been exceeding expectations. In this year's season, the team hopes to build off of their past success, and newcomers to the team will look to add to it. Eight wrestlers are being added to the roster. One of the highlighted additions to this year's team is Senior Roby Thomas, who has wrestled in the past for Notre Dame and Ooltewah High School.
"I hope I can teach the new kids in the room to learn to love the sport," stated Thomas. He followed up by commenting, "Hopefully, we take an entire roster to the state tournament."
Thomas brings a lot of experience to the locker room. He is a two time state qualifier in Tennessee AAA Region 4, which is one of the most competitive regions in the entire state. Thomas placed third at the state tournament as a freshman, so he hopes to share his knowledge to the younger and less experienced wrestlers. 
"My goal for this year is to finish first in state," continued Thomas.
He has a strong passion for the team and will try to push himself and his teammates as far as they can go. This being his senior year, he hopes to finish his high school career off strong, so that he can continue his wrestling career in college.
Thomas finished by stating, "I plan on wrestling for the Naval Academy or for UTC, but I am still undecided."
Thomas's arrival was welcomed by coaches and students alike. He fit right into the team, and the coaches are happy that he can use his experience and passion for the sport to better himself and his teammates.
"[Thomas] brings a wealth of experience to our team. He has been wrestling since middle school," commented Coach Ryan Mallory. "Last year, he finished third in the Central Invitational, third in the Soddy Showdown, and he qualified for the AAA state tournament."
Last year, Central achieved success in their wrestling season. They had two wrestlers, Noah Pinion and Randall Gray, qualify for state. Coach Mallory hopes to use the experience from Pinion, Gray, and Thomas to teach and influence the new wrestlers on the team. 
Readers can view the latest sports updates on the sports center page. This is where schedules, scores, and rosters will be posted. The Digest will continue to bring the latest coverage and updates as the 2020 season progresses.