TSSAA Announces New 2021-2023 Sports Classifications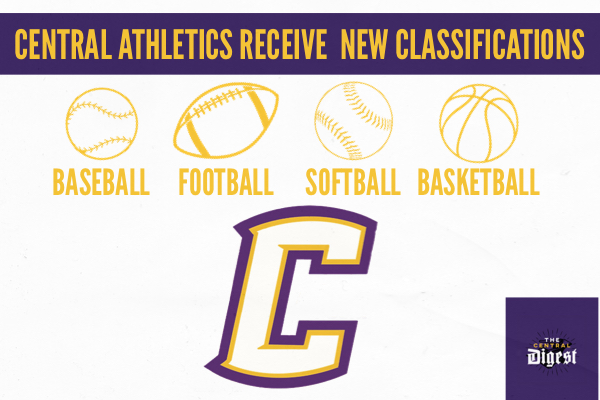 In November, the Tennessee Secondary School Athletic Association (TSSAA) announced significant sports classification changes. These changes will rearrange sports districts and regions throughout the Volunteer State and will take effect in 2021 and last through the 2023 school year.
In Tennessee, high school sports are organized into divisions, classes, regions, and districts. The two divisions separate public and private schools. Then, the classes (A, AA, etc.) subdivide the divisions based on the size on their student body. For example, Class AAAA consists of larger schools and Class A is made up of school's with smaller student populations. The regions then subdivide the classes based upon the school's location. For instance, the region classifications will separate a Knoxville area school and a Chattanooga area school with similar student populations.  Finally, the regions are split into districts or regions which ensure teams throughout a specific area compete against school's of similar size.
All sports districts were reassessed, but some were shaken up more than others. In Central's case, the baseball, basketball, softball and football districts were most affected.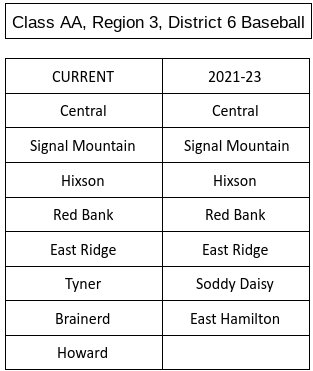 Central's baseball, basketball, and softball teams are currently in Division I, Class AA, Region 3, District 6. Currently, they play Hixson, Signal Mountain, East Ridge, Tyner, Howard, Brainerd, and Red Bank in regional matches. The new district classifications will include: Hixson, Signal Mountain, East Hamilton, Soddy Daisy, and Red Bank.
Focusing on baseball, these new classifications will make the district much more competitive. Currently, Central, Hixson, and Signal Mountain are the teams that are most often in contention for the regional championship. With the new classification, all the teams in the district are established, successful programs. This will result in a much more competitive schedule.
"The new district will definitely have more competition…basically with our current district there are three teams that are always in the hunt for two playoff spots. Next year there will be five or six teams fighting for the two playoff spots." explained baseball Coach Glen Carter.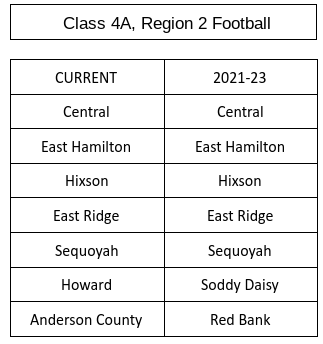 Central's football team will be reclassified into 4A Region 3, as opposed to 4A Region 2, like past years. Currently, Central plays region games against East Hamilton, Hixson, East Ridge, Sequoyah, Howard and Anderson County. Starting next season, Central will no longer have region games against Anderson County and the Howard School. In their place, Central will face the Soddy Daisy Trojans and Red Bank Lions.
"This new classification rearranges the entire region… this will help our team be more competitive," shared football Coach Curt Jones.
Next year, Central will battle new district and region rivals; so come out and support the purple and gold!
Readers can view the latest sports updates on the sports center page. This is where schedules, scores, and rosters will be posted. The Digest will continue to bring the latest coverage and updates.