Seven Central Football Players Receive District Awards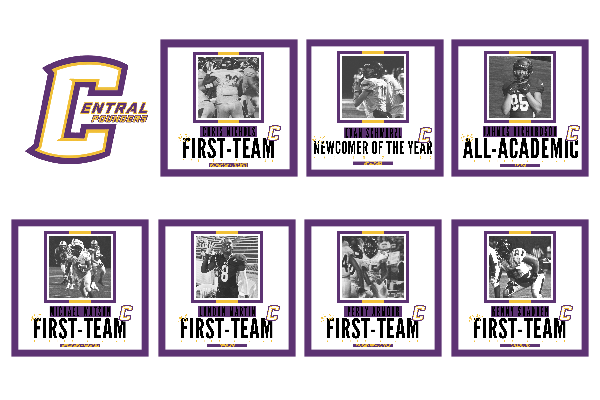 Central's 2020 football season came to an end in late October. The team had its good and bad days over the course of the season, but with each game, they were able to improve themselves. Central is looking forward to coming back strong and together as a team in the 2021 season.
Shortly after the end of the season, district awards were announced. These awards highlight the best players from any team across the district. Seven Central players were given a district award for their efforts in the 2020 season. These players each worked hard and showed true talent for the sport in every snap.
Michael Watson, Kenny Shadden, Chris Nichols, Perry Armour, London Martin, Evan Schwarzl, and Jahmes Richardson were the Central players to receive awards. Junior Michael Watson received a first-team position for running back and linebacker. Senior Kenny Shadden received the first-team award for his performance on the offensive line. Sophomore Chris Nichols reserved his spot for the first-team award for his effort on defensive end and linebacker. Sophomore Perry Armour received first-team award for his display at defensive end and fullback. Sophomore London Martin received a spot as a first-team linebacker. Freshman Evan Schwarzl earned the title of newcomer of the year for his impressive season at quarterback. Junior Jahmes Richarson earned an award among the all-academic athletes. These players are continuing to grow together as a team and individually, as the underclassmen look forward to next season.
"I am honored to receive newcomer of the year. I am continuing to grow personally…I am looking forward to playing next season and coming back stronger than before," shared Schwarzl.
Each player is very grateful to receive these awards. These players worked tirelessly towards their goals due to the their love and talent for the sport.
"I couldn't be happier about receiving this award, and I am thankful that I did. I believed I worked very hard this season and gave the game my all," stated Shadden.
The team continues to keep their heads up with high hopes for next season. The team is growing everyday with excitement for what the future holds for these players. Central is hoping to meet the goals for this upcoming season. Each player is ready to be out on the field once again, playing the sport they love.
Readers can view the latest sports updates on the sports center page. This is where schedules, scores, and rosters will be posted. The Digest will continue to bring the latest coverage and updates as the 2020 season progresses.