Girls Soccer Takes a Tough Loss on Senior Night
This past week the girls' soccer team took a step up and won their first game of the season.
On Tuesday, September 14, the girls played and beat Howard 6-0. Junior Melina Barros scored 4 goals, Senior Janetth Colunga scored 1 goal, and Junior Khloi Standidge scored 1 goal. Senior Ashlyn Wood had 5 saves and a shutout in goal. During this game, the team played as smart as they have ever had; however, if they executed just a bit sharper then they would have scored even more.
Coach Brittingham shared that he was "all in all very pleased with the way they played."
The team was scheduled to play a makeup game against Grace on Monday, September 20. Unfortunately, this game was canceled due to the weather. This game will be completely canceled, so will be no makeup date for this game.
On Thursday, September 24, the girls played Howard once again and added another win to the season. The ending score was 3-1. The goals were scored by Senior Karleigh Schwarzl, Melina Barros, and Janetth Colunga.
"I feel the game went very well. We played very aggressively and did not give up, we were ready to be there and win," shared Colunga.
The week of 9/27 wasn't too great for the girls' soccer team. They lost 3 games in a row.
On Monday, September 27, the lady Pounders lost 6-0 against Soddy Daisy. During this game, players had to be moved around because of starting goal keeper, Senior Ashlyn Wood, being out sick. Many players have moved around, including Senior Karleigh Schwarzl being moved to goalkeeper. This was her first time ever playing this position.
Despite all of the moving around in this game, Coach John Brittingham stated that "the team played ok."
On Tuesday, September 28th, the girls played at home against East Hamilton. The ending score was 9-0. East Hamilton is a hard team to beat; they are a very strong team that went to state last year, but they played poorly in the second half to get mercy-ruled.
The girls played a close game at Bradley Central on Thursday, September 30th. They ended the game with a score 1-0 and ended up losing. Schwarzl narrowly missed a goal from a long free-kick and Senior Janetth Colunga hit the post late in the match.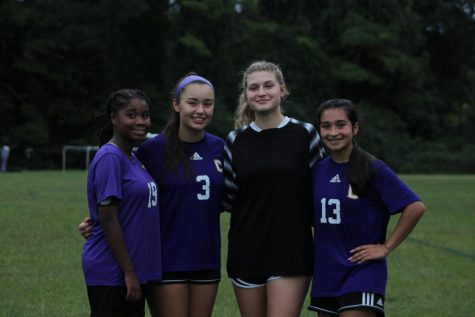 "We played well, particularly in the second half, but we were very unlucky," stated Brittingham.
Tuesday, October 5th was Senior Night for the girls. This year's seniors are Karleigh Schwarzl, Janetth Colunga, Ashlyn Wood, and Melissa Barros. They took a tough loss during this game with an ending score of 6-1. Their one goal was scored by Junior Melina Barros.
"We tried our best during this game and I feel like it was a great last game to play at our home field," stated Wood about how she felt her last home soccer game went.
On Thursday, October 7th, the team traveled to Sequoyah High School. The girls played a good game and won with an ending score of 8-0. The first half of the game was played ok; however, the second half was the best they have played all year. During this game, many of the girls scored goals. Junior Melina Barros, Senior Karleigh Schwarzl, and (enter grade) Melia Barros all scored one goal, and Junior Khloi Sandidge and (enter grade) Hannah Taylor both scored 2 goal. Senior Ashlyn Wood made 4 saves and had a shutout in goal.
"Spacing was great, the girls communicated well, passed well, got off a ton of shots and most importantly were having lots of fun," shared Brittingham.
Readers can view the latest sports updates on the sports center page. This is where schedules, scores, and rosters will be posted. The Digest will continue to bring the latest coverage and updates as the 2021 season progresses.