Pounder Profile: Senior Cheer Captain Madison Jenkins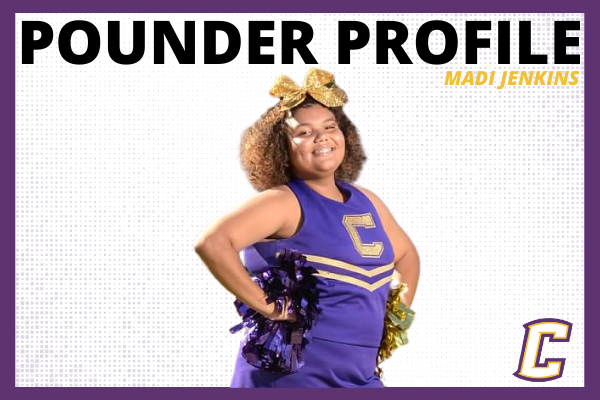 The Pounders football team finished up their 2021 regular season with a 6-1 record and a 5-1 region mark. The players on the field gave their all, and their biggest supporters were the 12 girls that were on the sideline.
Without the cheer team to boost the morale of the player, the atmosphere would be tense. Thanks to them, however, it is quite the opposite. One of the girls responsible for lifting the mood is senior Madison (Madi) Jenkins.
Demetrio Dominguez, a three-time All-Region offensive lineman for the Pounders, stated, "Things could sometimes get intense while in a game. After a while you start to get frustrated with yourself or the other team. But knowing those girls were out there supporting us, giving us their all, we were able to give our all in return."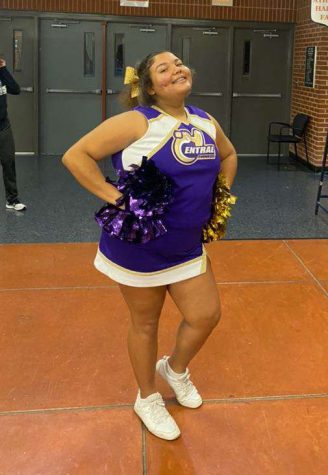 The Digest sat down with Jenkins to get a glimpse into her life outside of being a Central cheerleader. Central High School athletes dedicate an immense amount of time and energy to their respective sports, so it is only right for the community to get a look inside what makes Central athletics so special.
What's your highest athletic achievement? I would say my highest athletic achievement is getting better at not being so nervous in front of big crowds. I have to be in front of crowds during pep rallies, football games, and basketball games. I've become so much more confident in what I do since I started cheering in the 10th grade.
Favorite Food? My favorite food is any kind of pasta. 
Favorite Quote? "You may not control all the events that happen to you, but you can decide not to be reduced by them." – Maya B Angelou
Favorite class or teacher? My favorite teacher is Mr. Fletcher, and his English class is also my favorite class. I look forward to going to it at the end of the day.
What are your plans after high school? My plans after high school are to go to one of the colleges I got into and get my associates degree, so I can pursue my career in being a Dental Hygienist or Orthodontic Hygienist.
What's your favorite high school sports memory? My favorite high school sports memory is getting to travel to the playoffs with the football team.
What position do you hold on cheer and why? I am one of the captains of the team. The reason why is because 1) I am a senior and 2) my leadership and the other two captains' leadership has led the team to become closer and better as one.
Readers can view the latest sports updates on the sports center page. This is where schedules, scores, and rosters will be posted. The Digest will continue to bring the latest coverage and updates as the 2021 season progresses.