Baseball Team Prepares for Upcoming 2022 Season
It's that time again! Winter sports are wrapping up, temperatures are getting warmer, and that can only mean one thing: it's baseball season. After an underwhelming start to the 2021 campaign, then a strong push in the district tournament, this year's team is looking to start off on the right track.
Last year, the Pounders placed third after losing to Hixson High School in the district semifinals. The game was a tough loss for the squad, but this year's team is working hard for the next meeting with their archrival.
The boys began preparing for the season in January by having workouts multiple times of the week. Tryouts were held the week of Febuary 14 and the team was announced that Thursday. This year, the roster is comprised of 24 players: 16 returning players and eight first year players. Out of the 24 players, there are four seniors, 12 juniors, five sophmores, and three freshman.
The team looks to senior leadership from Luke Keown, Kion Jones, Devin Seaman, and Daishun Sims.
Kion Jones, who has played baseball for the Pounders all four years, is looking forward to "… just having fun with my teammates and building lifelong bonds."
The outfielder went on to say, "My main goal for this season is to go further than we did last year and hopefully win district."
The team is under the direction of 17 year skipper Glen Carter.
"My main goal this season is to work hard and help give the team an opportunity to be successful. I'm hoping the boys can finish the game strong, since last year our last 2 losses were in the very last inning of the game," shared Carter, hoping for a successful season.
The team's first action of the season will be a preseason game at Boyd Buchanan on March 3. A week later, the team will host the Chattanooga Christian School Chargers. After those exhibition games, the team will travel to Soddy Daisy High School on March 14 to take on the district rival Trojans for the first their regular season game.
Last year, Central's district included eight teams, but now Region 3, District 6 will be made up of a seven team field.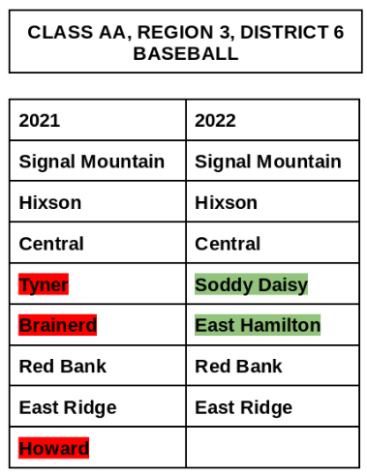 "The new district will definitely have more competition…basically with our current district there are three teams that are always in the hunt for two playoff spots. Next year there will be five or six teams fighting for the two playoff spots," explained Coach Carter.
The boys will be working hard this season, so be sure to come out to Gene Lively Field to show them some support!
Readers can view the latest sports updates on the sports center page. This is where schedules, scores, and rosters will be posted. All sports, including baseball, will be updated frequently with scores, updates, and more, so be sure to check back up here at the Central Digest.