Football Takes Loss to Franklin County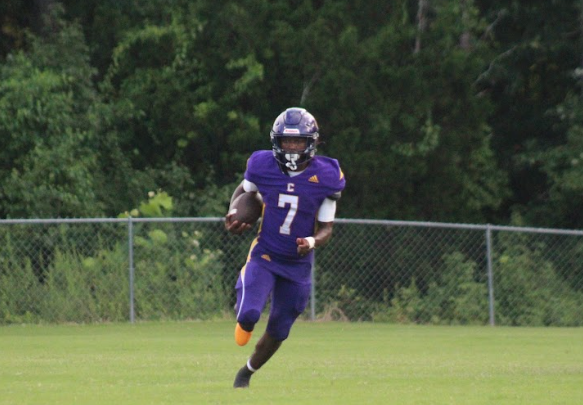 Following an exceptional start to the season with a win over Campbell County, the Pounders fought hard through 4 quarters, but came up short to the now   2-0 5A school, Franklin County High School.   
Give credit where it's deserved; Franklin County has a great group of guys this year. They started their season beating their rival, Coffee County, whom they haven't beaten in years. The Pounders were defeated by the Rebels with a score of 47-14, with their errors being 4 fumbles, and 2 interceptions leading to touchdowns.
The guys from Central had some good sides. Sophomore Quarterback, Ronye Watson, went 14 for 23 for 285 yards, with 2 touchdowns and 2 interceptions. He also had 8 carries for 56 yards. The running game was not a strong point in this matchup; the Franklin County Rebels' defense came waiting for it running the cover 3 defense.
"I felt that I played good, but it was still a loss so there is much to improve on; we've been hustling in practice all week to prepare for Soddy," stated Watson.
The Pounders' two scores came from an 85 yard touchdown reception from Watson to Donovan Smith; it came with a missed extra point. Tristan Odom had a 31 yard touchdown reception from Watson, with the 2 point conversion being run in by Watson as well.
"The kids played really hard but unfortunately unforced errors and turnovers were our downfall," voiced Head Coach Curt Jones.
The Central football team was not expecting a tough loss like this, but are expected to study enough film and put in the extra hours running through plays correctly to make a strong return for their next district game against Soddy Daisy. It will be the first home game, alongside being the first district game of the season. Be sure to come out and support the guys in purple and gold.
Readers can view the latest sports updates on the sports center page. This is where schedules, scores, and rosters will be posted. All sports, including football will be updated frequently, so be sure to check back up here at the Central Digest.