Pounder Profile: Wrestling Star Randall Gray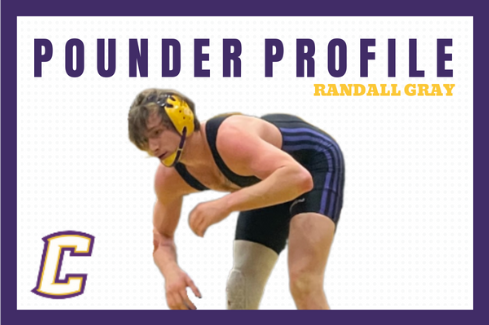 This season, the wrestling team has had a great start to their 2022-2023 season. They have had matches since the beginning of November till now, about every Thursday and Saturday. This season has been a developmental season for the team. They have been putting in a lot of work, and even sometimes practice on days they have matches! One of the wrestlers this year is Senior, Randall Gray.
This season, Gray has maintained winning 13 matches this season . His career win total is 68 wins. He is ranked 4th in his weight class in Class A Region 4.  This year Gray has grown to become a leader and is trying to be a better wrestler than he was last year.
According to Head Coach Ryan Mallory, Gray's season record is 13-7. He has metaled in all three tournaments he has wrestled in: 2nd at the Atlanta Invitational, 6th at the Central Invitational, and 4th at the Admiral Invitational.
"Randall has grown as a leader this year. He is part of the leadership team that guides the team through abilities and stretches at practice," shared Head Coach, Ryan Mallory.
The Digest was able to sit down with Gray to get a glimpse into his life on and off the mat. Central High School athletes dedicate an immense amount of time and energy to their respective sports, so it is only right for the community to get a look inside what makes Central athletics so special.
What's your highest athletic achievement? Going to the state for wrestling
What's your athletic goal? To be a state placer
Favorite professional athlete? Spencer lee Iowa
Favorite Food? Chicken Alfredo
Favorite Quote? "Don't sacrifice who you could be for who you are"  -unknown 
Favorite class or teacher? Geometry with Mrs. McGrath
What are your plans after high school? To go to lineman school 
What's your favorite high school sports memory? Hanging out with my team at state my freshman year.
What weight class are you in? 184
Overall, Gray is a fantastic wrestler so be sure to come out and show some support!
Readers can view the latest sports updates on the sports center page. This is where schedules, scores, and rosters will be posted. The Digest will continue to bring the latest coverage and updates as the 2023 season progresses.