Lady Pounders Take Three of Four in Volleyball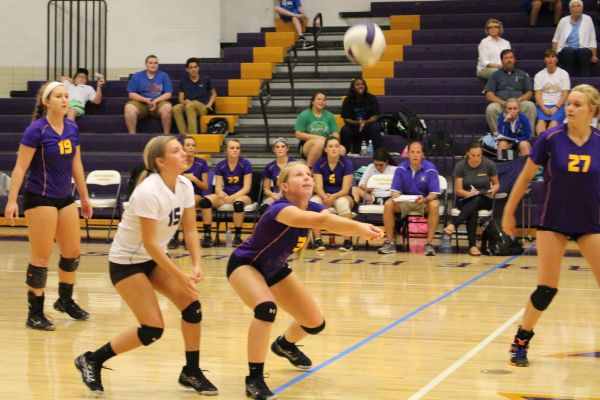 On Tuesday, August 18, Central's volleyball team had their first game of the 2015-2016 school year against Boyd-Buchanan. The Lady Pounders won the game with an ending score of 3-0, with students such as senior Rebekah Hill getting ten or more kills, blocks, aces, digs, and assists.
"It was great to win. Even though I didn't play much, it was great to see how the girls practiced and worked hard to get where they are now," said Autumn Hansard, a sophomore and a new addition to the team.
Sadly, the next day (Wednesday, August 19), the team had their first loss against Baylor with a final score of 0-3.
"Even though we lost, the team gave it their all, so it's nothing to worry about," said Head Jeff Coach Baughman.
On Thursday, the fire was brought back against East Ridge, and the Lady Pounders won 2-0. High points from this game include Lexie Ainslee's nine assists and three aces and Kyonnoah McClurg's 14 digs, seven kills, and four assists.
To finish out the week, the team brought home win No. 3, beating Tyner with a win of 3-0. Within that game, Sam Scott had eight digs and five aces, and Lexie Ainslee got 23 assists and four aces.
These three wins have given the whole team a sense of confidence for the rest of the year.
"I think we have very good chances for this season because we strive hard and make the best of our teams abilities," Hansard shared.
We at the Digest completely agree. This first week gave the team high hopes, and we will support our Lady Pounders all the way!
About the Contributor
Matthew Davis, Assistant Editor
Hi! I am Matthew, and I am a Senior here at Central. I am a member of the Central Sound marching, concert and jazz bands (award winning bands, btw!). I...