30 Years Ago: Strickland Played Football for Vols' 1985 Sugar Bowl Championship Team
Kribs played college football for Western Oregon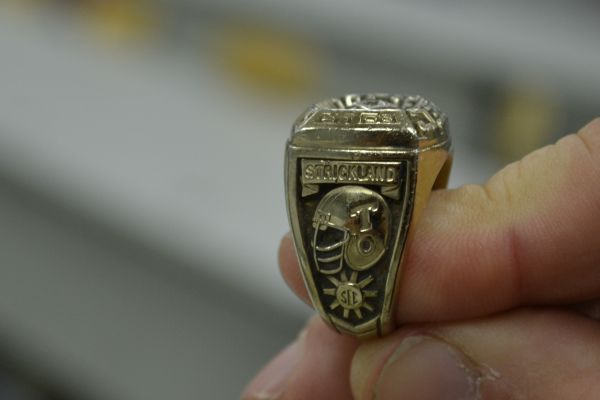 He's "All-Vol." That would be Mr. Chip Strickland, Central's 9th grade physics teacher and member of the University of Tennessee's Sugar Bowl Championship football team from 30 years ago. In fact, Mr. Strickland still proudly wears the championship ring from that successful season.
Speaking of successful seasons, Strickland played for the Tennessee Volunteers in 1985 – the same year the team won the SEC championship. They also won the Sugar Bowl 35-7 against Miami, who was ranked No. 2 in the country at the time. The Liberty Bowl (1986) and the Peach Bowl (1987) were other major wins in his Vols career. As an offensive lineman, he ended up getting hurt after three years of playing due to a back injury. During that time, he became a student assistant coach, which allowed him to learn the game from a different point of view. The team won another championship in 1989.
"When we landed the plane, from the airport to UTK, people were lined down the streets for around 15 miles. Our head coach was in tears," commented Strickland.
Mr. Strickland is not Central's only former college football player. Mr. Chris Kribbs, a 9th grade world history and geography teacher, played at Western Oregon University in Monmouth, Oregon. Just by walking into Kribbs' classroom, you can see his love for Oregon football. Green and yellow apparel along with banners of ducks flood his bulletin boards in the front of the room. For five years, he played offensive center and right and left guards for the Western Oregon Wolves. After traveling to Canada to play as well as being in the playoffs, Kribbs developed a close bond with a lot of his teammates. To this day, he remains great friends with his fellow players, including one who lives in South Korea.
"Just being involved in the struggle, knowing that I put in the same amount of work as the players I was up against but knowing my team was better then theirs – that has to be my best memory," reminisced Kribbs.
Both Strickland and Kribbs "red-shirted" their freshman years, which means they spent a season practicing before actually playing. They agree that their college lives completely revolved around football, which resulted in countless memories and lifelong friendships.
Overall, Mr. Kribbs and Mr. Strickland have some amazing experiences from their college football careers. Both players agree that college football workouts were brutal, but their friends and successes made it all worth it. These teachers are sure to always be proud alumni of UT and WOU.
About the Contributors
Samantha Scott, Staff Writer
Hey there! My name is Samantha Scott. I am a senior this year, and I enjoy playing sports and writing! I have been the varsity liberro, or defensive specialist,...
Shelby Campbell, Copy Editor
Hi! :) My name is Shelby Campbell; I am a senior and this is my third year on the Central Digest! I absolutely love writing, and I'm so excited about...