Heather Randolph – A Softball Legend in Many Halls of Fame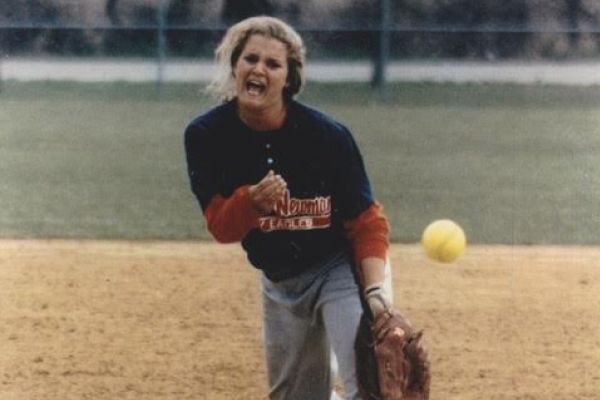 Central High School is still a part of Heather Randolph's family. The 1992 graduate was an extremely successful athlete in high school and continues to proudly represent Central alumni today.
Throughout her time at Central, Heather played basketball, volleyball, and softball. In her senior year, she received the "All-City Basketball Award." Though she excelled at each sport, her focus eventually shifted to softball. She won multiple awards for her outstanding performance and was chosen for The Chattanooga Times Free Press softball team all four years of high school.
Heather's talent was soon noticed and rewarded with a full-ride scholarship to Southeastern Louisiana University to continue her softball career. She played her first year, then transferred on another softball scholarship to Carson-Newman University for her last three years of college. While an Eagle, Heather's team was the conference tournament champ and a qualifier for the NCAA Regionals each year.
"College ball was a whole different ballgame. The level of competition is so different than high school. Just constantly working towards one goal as a team and, of course, road trips and post-seasons [are some examples]. Those are always special memories," reminisced Heather.
While finishing up college, Randolph was drafted to continue playing in the pro-league but ended up deciding against it. Before ending her softball career, she played for the Tennessee All-Star team which allowed her to compete against the first Olympic softball team in 1996 and 1998. She also had the privilege of playing against international teams like Australia and the Netherlands.
"My best advice I have been given was from my father – to set goals. He said if I would set goals and do what it took to achieve them, I could do anything. And that's what I did. I did what I wanted to do and what I loved to do from an early age," mentioned Heather.
While getting her masters degree in Special Education, she began coaching softball, eventually to be hired as the first full-time softball coach at Carson-Newman. She continued to be a part of the staff of her alma mater for eight years but ended up coming back to Chattanooga to coach softball at the University of Tennessee at Chattanooga for a season. Afterwards, Heather landed a coaching and teaching job at Southeast Whitfield High School for another four years. Then, after transferring to North Whitfield Middle School five years ago, she gave up coaching and dedicated her time to giving private lessons.
Heather Randolph's talent did not go without reward. In 2003-2004, she was the first softball player inducted into the South Atlantic Conference Hall of Fame. In 2013, she was the only female inducted into Central's first-ever Sports Hall of Fame. In 2014, she was inducted into Carson-Newman's Hall of Fame as well.
"I've been very blessed in my career to receive so many awards like All-American Player. Of all the honors that I've received, the one that means the most to me is my Central Hall of Fame induction. That meant so much to me and my family. Central is my home," commented Heather.
Heather Randolph always has and always will be a phenomenal representation of Central High. She currently spends her free time helping out softball players individually and the University of Alabama softball camps. She is truly an inspiration for students and athletes at Central, and she looks forward to cheering on this year's Lady Pounders softball team towards winning a state championship.
About the Contributor
Samantha Scott, Staff Writer
Hey there! My name is Samantha Scott. I am a senior this year, and I enjoy playing sports and writing! I have been the varsity liberro, or defensive specialist,...