Braswell Plans to Help Central Bounce Back from Previous Lackluster Season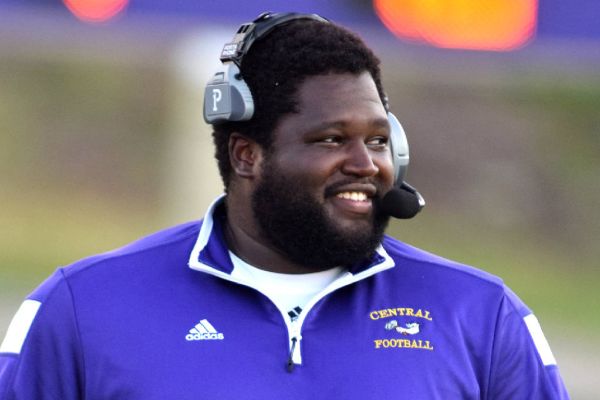 Last week Central High announced that Cortney Braswell will be head coach of the Central Pounders for the upcoming 2016-2017 school year. As the 2015-2016 school year comes to an end, Braswell and Central students are eager to see how Central bounces back from their previous 0-10 season.
"I wanted the job because, as a former athlete, there's a competitive streak in me that didn't end when I stopped playing. I love a challenge, and, to me, there's no bigger challenge than trying to change the culture of a football program. Also, Central felt like home when I was here before, so being apart of restoring the glory to the days of old is something I'd very much like to be apart of," expressed Braswell.
Braswell has had experience with not only playing football, but with coaching football as well. He has coached at many schools, including Ringgold, East Ridge, North Murray, and even Central High School as a a defensive coordinator during the 2014 season. During the time Braswell was coaching at Central, the Purple Pounders had their first winning season in six years and the team had a strong defense that held opponents without a touchdown and had an average of scoring 17 points each game.
Many upcoming seniors, such as Alex Padavana, are very excited to get back on the field and regain the reputation of the Purple Pounders.
"I love Braswell. He not only is a good coach, but he is really confident in the upcoming season and the closer the time comes the more excited I become." stated Padavana.
When Braswell applied to be the upcoming coach, athletic director, Steve Lewis, already knew he'd be a great coach and assigned him the job.
"We had a lot of applicants, which was great to have so much interest in Central football, but what stood out about Cortney was his knowledge of the game and his ability to build and develop relationships." commented Lewis.
As head coach, Braswell has many plans to make the 2016-2017 football season successful.
"My plans are to work in three main areas: people, process, and product. If we can continue to evaluate, tweak, change those three things we have a chance to be successful. This year, as I mentioned before is about bringing the pride to our program. " concluded Braswell.
The Purple Pounders are starting workouts over the summer where they plan to work on skill and technique to take them back to the playoffs next season.
About the Contributor
Savannah Smith, Editor-in-Chief
Hi, my name is Savannah! I am a senior and this is my third year on the Central Digest Staff! I am the Editor-in-Chief for the Digest and I would...